Buy Silver Bullion in Singapore
Singapore offers a number of benefits when buying and storing silver. In Singapore, the majority of silver bullion bars and silver bullion coins from the world's major mints and refineries are exempt from Goods and Services Tax (GST). There are also no taxes or duties on the import or export of silver.
Singapore is also one of the safest and most secure jurisdictions in the world. This has led to the development of an extensive range of secure vault storage services in the country. There are also no reporting requirements when buying and storing silver in Singapore.
While the gold market in Singapore often overshadows that of silver, its important to remember that Singapore hosts an active market for silver as well as for gold.
Singapore: Precious Metals Hub
Singapore's Government actively supports the growth and development of Singapore as a precious metals trading and storage hub, and this applies equally to buying and storing silver as to buying and storing gold. According to a recent Singapore bullion market survey conducted by the SBMA, more that 4200 tonnes of silver were traded in Singapore during 2015.
This active trading is partially due to the fact that there are no licensing requirements on the importation or exportation of silver to and from Singapore. The silver trading market in Singapore is also supported by the presence of a number of active bullion banks, trading houses, and retail bullion dealers.
Furthermore, Swiss headquartered Metalor operates its own precious metals refinery in Singapore which has processing capacity for both silver and gold, and there are a number of large wholesale precious metals storage facilities situated in Singapore, such as at Brinks and Le Freeport which store physical silver as well as gold.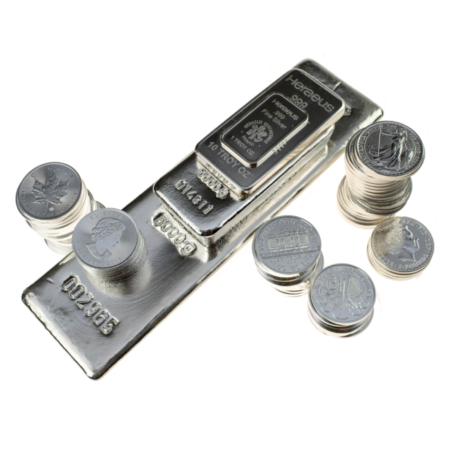 BullionStar offers a wide range of investment grade Silver Bars and Silver Coins
One of the immediate attractions of buying silver bullion in Singapore is the exemption of silver bullion from Singapore's Goods and Services Tax (GST). This means that when you buy silver bars and silver coins from a bullion dealer Singapore, you pay no sales tax whatsoever.
The GST exemption was first introduced by the Singapore Government in October 2012, and applies to Investment Precious Metals (IPM) which are defined as qualifying gold, silver and platinum in the form of coins, bars, ingots and wafers.
Investment silver means silver bars and silver coins that have a silver purity of 99.9% or higher. Qualifying silver bars must be tradable on the international market, be fabricated by a refiner accredited to the London Bullion Market Association (LBMA) Good Delivery List for Silver, and generally, all qualifying bars are required to bear a recognizable hallmark of a refiner.
All silver bullion bars stocked by BullionStar qualify for this GST exemption, so when customers buy silver bullion bars at BullionStar, they can be assured that the prices listed for these silver bars will be free of GST.
For silver bullion coins to receive the GST exemption, they must be legal tender coins in their country of origin. Additionally, only silver bullion coins included on a specific list drawn up by Singapore's Revenue Authority are currently GST exempt.
From the latest GST guide on exempted IPM, dated July 2017, the list of silver coins that are GST free spans 16 issues of silver coins from a combined 8 countries around the world.
These includes silver coins from the US Mint, Perth Mint, Royal Canadian Mint, Royal Mint, Austrian Mint, as well as silver coins issued by the Mexican national mint, the Chinese State, and a silver bullion coin issued on behalf of the Government of Armenia.
The current list of GST exempt Silver Coins is as follows:
From time to time, the Singapore revenue authority updates this list and adds new silver coins to the list of exemptions. Note that the above links are mostly to the popular 1 oz denomination, but the GST exemption applies to all weight denominations that are issued for each of the qualifying coin types.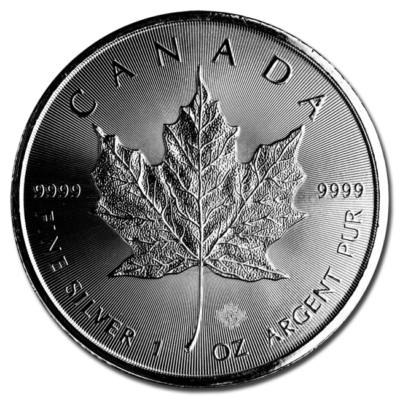 Popular Silver Bullion Products
An interesting way to gauge the relative popularity of the investment silver bullion market in Singapore is by looking at BullionStar's annual sales figures. Each year BullionStar transparently publishes its annual sales figures on its website, including in infographic format.
During financial year 2017, ending 30 June 2017, BullionStar generated full year sales revenues of SGD 186.2 million, with silver products accounting for just over a quarter of total sales (25.7%).
Silver bar sales represented 21% of total sales, with 1 kg silver bars being the most popular bar weight sold, followed by 100 oz silver bars. Silver coins represented just over 4.6% of total sales, and the most popular silver bullion coins bought by BullionStar customers were Canadian Silver Maple coins followed by Australian Silver Kangaroo coins.
Generally speaking, premiums on silver bullion coins will tend to be higher than premiums on silver bullion bars. Likewise, premiums on large silver coins and large silver bars will generally be lower than those on similar bars and coins of smaller denominations.
BullionStar 1 kg Silver Bullion Bars
BullionStar also offers the popular BullionStar branded 1 kg minted silver bar. These high-lustre polished 1 kg silver bars are exempt of GST and are fabricated by the world-famous Heraeus precious metals refinery in Germany. Heraeus is a LBMA accredited refinery.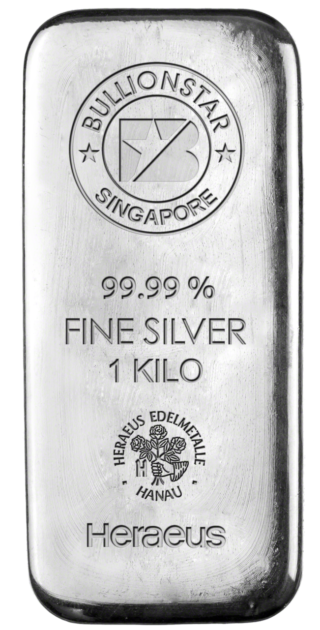 Saving in Grams of Silver
BullionStar's Bullion Savings Program (BSP) in silver is a novel way to begin saving in silver. Denominated in grams, every gram of silver purchased by a BSP customer is fully backed by BullionStar's stock inventory. Purchases start from as little as 1 gram of silver.
When a sufficient quantity of BSP grams of silver has been accumulated, customers can then convert these grams of silver to Heraeus 15 kg silver bars at no extra cost. The storage costs of silver in the BSP program are just 0.19% per annum.
Merlion Silver Rounds
BullionStar has recently issued a 1 oz Merlion Silver Round celebrating Singapore's famous Merlion statue. The imagery on the 1 oz silver round also displays Singapore's national flower, the Orchid. This round silver bullion bar is minted by LBMA accredited refiner Republic Metals Corporation, and is GST exempt since it is a round silver bullion bar in .9999 silver minted by a LBMA accredited refiner.
The Silver Price in Singapore Dollars
During 2017, the silver price measured in Singapore Dollars has traded in a range between just over SGD 21.5 and SGD 26 per troy ounce, with higher prices seen in the first half of the year. Since August, the price has fluctuated in a narrow range between SGD 22 and SGD 23 mark. Overall, a troy ounce of silver in terms of Singapore Dollars is cheaper now than it has been for most of 2017, and now may be a suitable entry point for Singapore based investors buying silver for the first time, or for existing silver holders wishing to accumulate additional physical silver.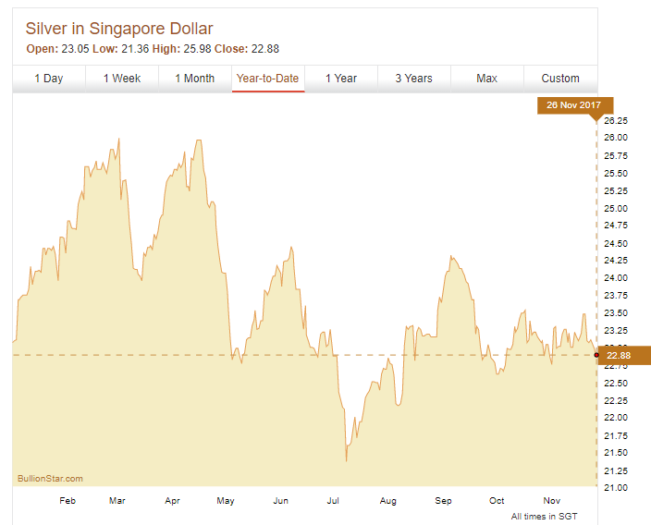 Silver Storage in Singapore
Singapore is one of the safest and most secure jurisdictions in the world for those who wish to store silver and other precious metals. Due to a strong rule or law and stable prosperous economy, there is virtually no serious crime in Singapore. Singapore's legal system vigorously upholds property rights, and importantly, there are no reporting requirements on buying, storing or selling silver bullion or other precious metals.
In addition to the Goods and Services Tax (GST) exemption on investment precious metals mentioned above, there are no capital gains taxes on silver or other precious metals in Singapore, no dividend taxes, no inheritance taxes, in fact no taxes whatsoever. All of these factors help explain why Singapore has become well-known internationally as a storage hub for silver and gold, and why a number of secure vault storage providers, such as BullionStar, successfully operate in the Singapore jurisdiction.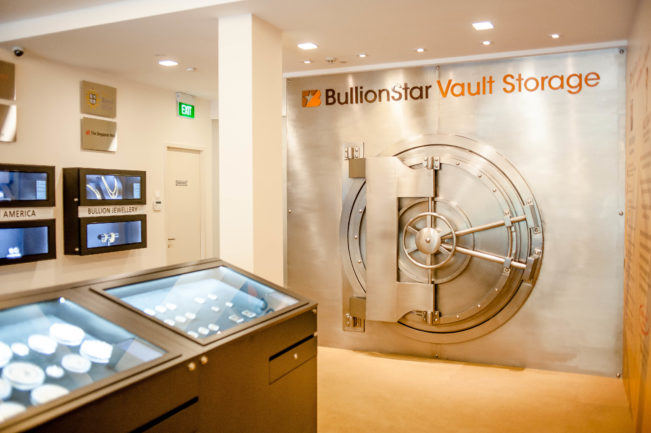 BullionStar's secure storage offering operates a highly security precious metals vault integrated into its downtown Singapore facility. All customer silver bullion bar and coin holdings in BullionStar's secure vault are fully allocated, and customers at all times have full legal title to their stored bullion. Storage charges for silver bars and silver coins with BullionStar are only 0.59% per annum.
All bullion is fully insured, and customer bars and coins are always handled under camera surveillance. In addition, BullionStar employs an extensive series of auditing approaches to continually confirm the existence of all bullion products. Storing silver bars and silver coins in Singapore is therefore an attractive proposition, and at the same time a safe and simple process to undertake.
For a comprehensive overview of the benefits of buying silver bars or silver coins as a form of investment or savings, please see BullionStar guide "Why Invest in Silver".