BullionStar Financials 2015 – The Year in Review
2015 was a momentous year for BullionStar with sales revenues totaling SGD 89.6m*, a 69.1% increase from 2014.  2015 also marked the first full calendar year in operation for our unique bullion retail shop, showroom and built-in vault which was launched in July 2014.
In 2015, we increased our product range to include over 370 different bullion and numismatics products across 9 different product categories. We also released our very own BullionStar Minted Gold Bars and BullionStar Minted Silver Bars – which offer no spread between the buy and sell price.
We also launched the possibility to keep funds on account with BullionStar thereby simplifying the transactional process and allowing for greater convenience throughout the bullion trading process. Furthermore, we enhanced our Bullion Savings Program (formerly Vault Grams) enabling our customers to convert their BSP Grams to physical bullion where they can take full physical delivery at any time without any charge.
Sales in 2015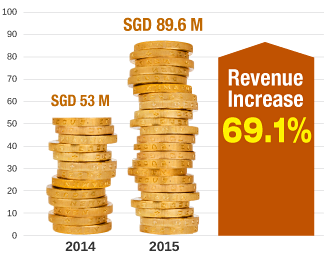 BullionStar's sales revenue for 2015 was SGD 89.6m*, up 69.1% from 2014.
Comparatively, the total global bullion demand increased by 1% in 2015 if calculated in tonnage and decreased 7.9% if calculated in USD (based on data from the World Gold Council for Q1 to Q3 2015 compared with data for Q1 to Q3 2014). BullionStar's strong and rapid growth is thus rather spectacular when compared to the industry development as a whole.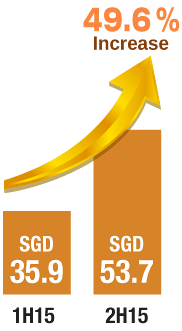 Overall bullion demand in Singapore decreased from 5.9 tonnes to 4.8 tonnes marking an 18.6% decrease for the first three quarters of 2015 according to the same publication. For the first three quarters of 2015, BullionStar sold approximately 0.9 tonnes of bullion gold, thereby contributing to 18.4% of the total Singaporean bullion market based on the data published by the World Gold Council.
Despite consolidating market conditions in the bullion industry as a whole, we grew our sales revenue steadily during the year and picked up the pace during the second half of the year. The sales revenue of SGD 53.7m for 2H15 was markedly higher than the SGD 35.9m reported for 1H15. Our growth is derived from a mix of increased sales to domestic and international customers.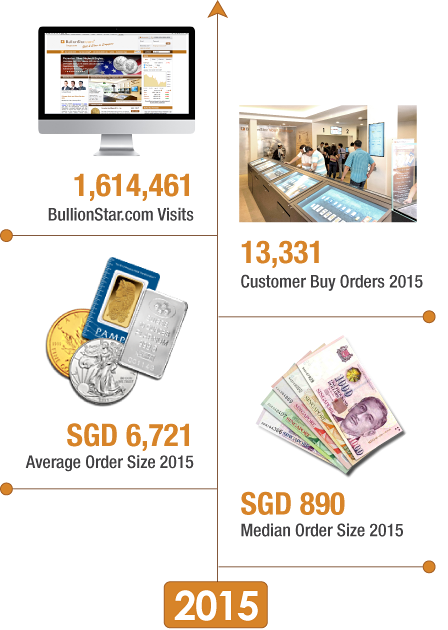 By comparing the below pie chart to the corresponding chart for 2014, we can see that gold increased in popularity compared to silver in 2015. Gold consisted of 67.20% of total sales for 2014 whereas it increased to 72.39% of total sales for 2015. One explanation for the proportionate increase in the popularity of gold may be the increasing gold/silver ratio, where 76.4 grams of silver was equivalent in value to 1 gram of gold at the end of 2015, a figure being close to its multi-year highs. With the fall in commodity prices in 2015, silver has been affected to a greater extent than gold due to its predominant industrial usage. Gold, on the other hand, has once again re-emerged as the ultimate safe harbor in times of uncertainty.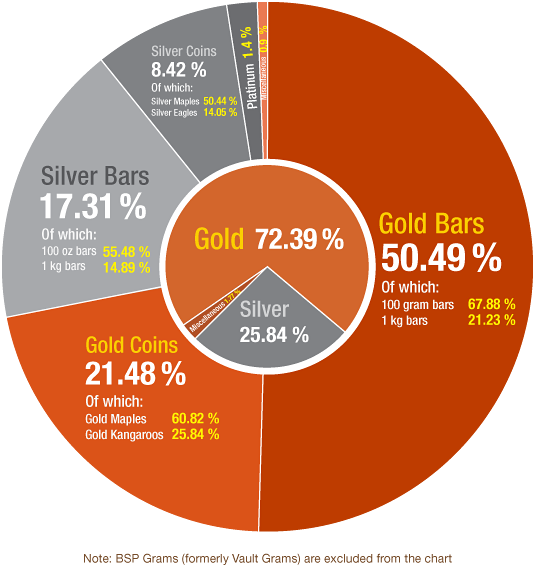 What lies ahead
The first couple of weeks of the new year has been characterized by renewed volatility on the global markets following concerns about global debt levels and poor growth. We expect global markets to continue to be volatile during the year. Consequently, bullion stored in a safe and stable jurisdiction like Singapore emerges as a natural diversification option for an increasing number of savers and investors. We expect bullion demand to increase globally in 2016 and particularly here at BullionStar where our strategic focus will be to continue our internationalization efforts by marketing Singapore as the world's outstanding jurisdiction for buying and storing bullion.
Another noteworthy trend is the increasing popularity of gold coins which have been driven by the increased demand for Canadian Gold Maples for which the Royal Canadian Mint introduced an amended design with improved security features in 2015.
Gold & Silver Prices
The gold price, denominated in Singapore Dollars, declined 4.3% during the year. The gold price started the year at SGD 50.48/gram and ended at SGD 48.33/gram.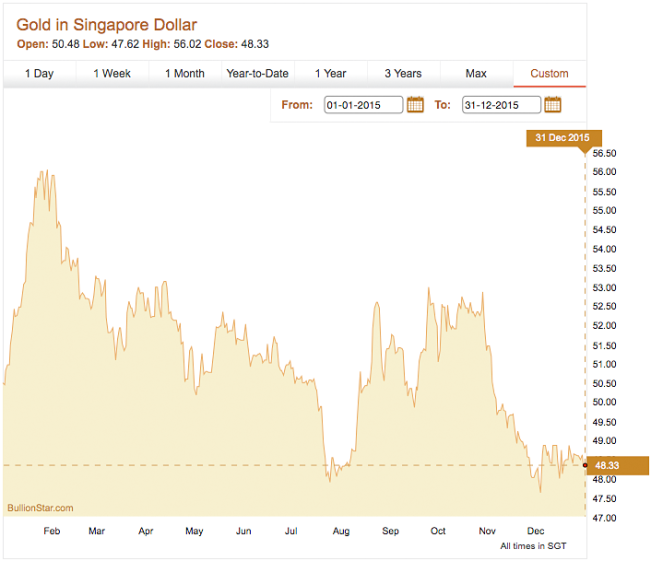 The silver price, denominated in Singapore Dollars, declined 6% during the year. The silver price started the year at SGD 0.67/gram and ended at SGD 0.63/gram.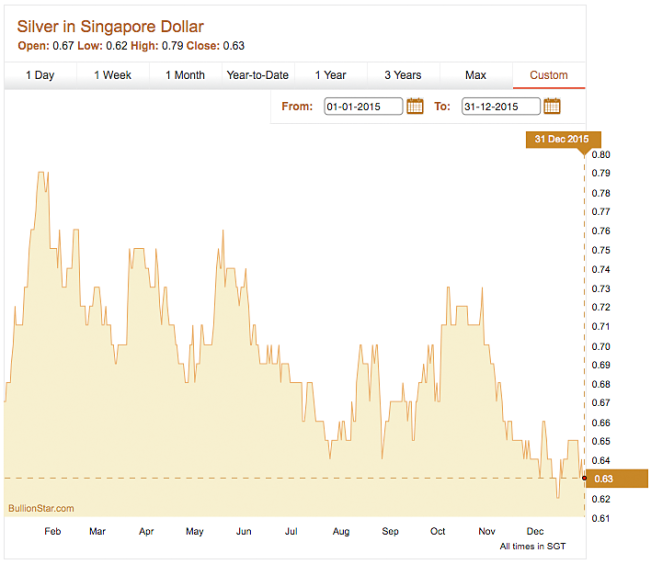 BullionStar Vault Storage
When our customers store their metals with us, they have full control of their bullion portfolio online 24/7. We employ no less than 5 different audit schemes, including third party audits by the LBMA-approved auditor Bureau Veritas, to verify the existence and correctness of the stored bullion. With our vault being integrated in the same venue as our shop and showroom, customers can physically audit and withdraw their precious metals without any prior notification.
By the end of 2015, we stored approximately SGD 53m in precious metals as vault storage provider on behalf of our customers. This corresponds to an increase of 39.5% compared to one year ago.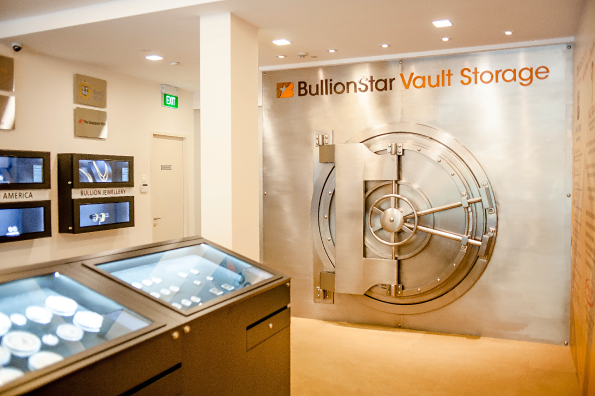 Customer Satisfaction
We are proud to have earned an outstanding reputation in the bullion industry. At BullionStar, we strive to continuously develop our offering by giving our customers usable online tools, physical accessibility and by sharing our competence and knowledge about precious metals.

About BullionStar
BullionStar is Singapore's premier bullion dealer offering a wide range of precious metals products and services. BullionStar is breaking new ground by introducing modern technology into the age-old precious metals industry. With a proprietary online platform, BullionStar offers customers the ability to efficiently handle and control their bullion holdings 24/7 at their convenience.
BullionStar runs a one-stop retail shop and vault for precious metals at 45 New Bridge Road in Singapore where customers can view, buy, sell, value, deposit, test, audit and physically withdraw precious metals.
With original research and analysis covering the precious metals market on a whole and the Asian market specifically, world renowned analysts Koos Jansen and Ronan Manly keep readers updated on the news that matters.
---
* This is an indicative report. BullionStar's financial year is 1 July – 30 June. All figures are based on reports from our administration system, are indicative in nature and based on our best efforts.