Thai central bank leads pack, buying 90 tonnes of gold over April and May
In early April this year, the Hungarian central bank stunned gold markets with the surprise announcement that it had purchased a massive 63 tonnes of gold during March, and in doing so tripled its gold reserves from 31.5 tonnes to 94.5 tonnes.
At the time, this 63.5 tonnes purchase (the details of which we covered here) was the largest year-to-date gold purchase by a central bank during 2021.
Thailand now in Pole Position for 2021
Fast forward to June and that record has now been broken, as Thailand's central bank has now made public that over the two months of April and May inclusive, it purchased a total of 90 tonnes of gold, thereby putting the Bank of Thailand in the pole position of the global central bank gold purchases during the first half of 2021.
In fact, with China and Russia now 'officially' out of the market for buying gold since 2019 and early 2020, respectively, this Bank of Thailand gold buying is the largest short-term gold accumulation operation by any central bank  sovereign since the Polish central bank bought 100 tonnes of gold in London during the first half of 2019 and promptly airlifted it back to Warsaw. 
Thailand's 90 tonnes addition in its gold reserves over April and May comprised a 43.5 tonnes increase in during April, and another 46.5 tonnes increase during May, taking its total gold reserves from 154 tonnes to 244 tonnes, a 58.4% increase.
While the Polish and Hungarian gold purchases were announced in official press releases and attracted plenty of media attention, the same cannot be said of Thailand's 90 tonnes purchase. In fact, apart from the publication of updates to its international reserve data position (both on its website and in an IMF database), there has been no comment from the Thai central bank that they have made this massive gold purchase.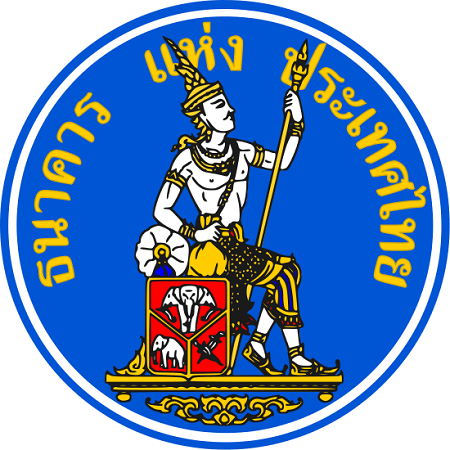 Media coverage of Thailand's gold buying has also been thin on the ground, with only a few references to Thailand's April gold buying, and as of yet, practically nothing about the Bank's gold buying during May.
In fact, it was a BullionStar Tweet in early June that broke the news that Thailand had purchased 90 tonnes of gold over April and May.
After buying 43.5 tonnes of gold in April, Thailand's central bank (BoT) has added another 47 tonnes of gold during May, taking its total gold reserves from 154 to 244 tonnes. That's 90 tonnes of gold added in 2 months! Latest data is on the BoT website https://t.co/sHNoq91gLp pic.twitter.com/DndgUssZMI

— BullionStar (@BullionStar) June 4, 2021
The Data – Discreet Updates
The first place where additions to Thailand's gold reserve position are published is in the Bank of Thailand's weekly 'International Reserves' report, which can be accessed here. Since this report only shows Thailand's gold reserves reported in 'millions of US dollars', the number of fine ounces held has to be inferred. In early May, this report (based on LBMA afternoon gold prices on month end dates) showed that Thailand's gold holdings had risen from 4,948,620 ozs on 26 March, to 6,351,976 ozs on 30 April, i.e. a 43.65 tonnes increase.
In early June, this report showed that Thailand was reporting gold holdings of 7,862,528 ozs of gold, a 46.98 tonnes increase on the end of May, and a cumulative 90.6 tonnes increase on the end of March.     
When central banks publish reserve data updates, they sooner or later then report the same data to the International Monetary Fund (IMF), which in turn publishes these updates in its International Financial Statistics (IFS) database.
As a verification source, you could argue that when central bank gold reserve holdings data appears in the IMF database, then you can assume its valid, since it is this IMF source which organisations such as the World Gold Council in turn use to produce their global central bank gold holdings rankings.
Turning to the IMF IFS data tables, and running an extract for Official Reserve Assets of Thailand over March, April and May 2021 (which includes the variable Volume in Millions of Fine Troy Ounces), we find that the figures check out nearly exactly as per the Bank of Thailand website, with month-end reported gold holdings in the IFS table of 4.95 million ozs in March, 6.35 million ozs in April, and 7.85 million in May.
This equates to a 1.4 million ozs gold purchase in April, and a 1.5 million oz gold purchase in May, for a total of 2.9 million ozs. Which is equivalent to additions of 43.54 tonnes in April and 46.65 tonnes in May (or 90.2 tonnes in total). So that's incredibly close to the inferred figures from the Bank of Thailand weekly report.
See IMF IFS data extract in the screenshot below:

Without any commentary from the Bank of Thailand (BoT) about its sizeable new gold purchases, we unfortunately don't know much about the gold bought by the boT.
For example, there is no information on:
whether the gold purchased is in the form of allocated gold bars or pooled fine ounces
the storage location of the purchased gold (in Thailand or perhaps London or Switzerland)
whether the new purchase is held in custody or already lent out
With the central bank gold market being ultra secretive, lack of information is par for the course, and if a certain central bank does not divulge any details, then it is very difficult to find out answers to the above. The Thai central bank is also in the category of  central banks that are not forthcoming with any details of their gold reserves. For example, the Bank's annual report divulges nothing about the structure or location of its existing gold reserves. Perhaps some readers may know.  
Thailand's Gold Buying Motivations  
We also don't know the motivation for why Thailand has decided to boost its sovereign gold holdings so sharply during such short a timeframe. It can be assumed though that Thailand has bought substantial gold at this time for the same reasons as Hungary and Poland purchased gold.
Hungary's 2021 gold purchase was motivated, it said, by the fact that gold is "a safe-haven asset and store of value" that "remains one of the safest instruments in the world" and which "even under normal market conditions, provides a stability and confidence-building function."
Gold, continued Hungary, "is still considered to be one of the world's safest assets" as there is a "finite supply of physical gold, and a lack of credit and counterparty risk given that gold is not a claim against a specific partner or country."
With a similar motivation, the Polish central bank said that it had purchased gold in 2019 since "gold is the 'most reserve' reserve asset: it diversifies geopolitical risk and is a kind of confidence anchor, especially in times of tensions and crises" while "increasing the country's strategic financial security buffer".
We can also find clues for probable motivations for the Bank of Thailand's gold purchase in some of the reasons put forward by respondents to the 2021 World Gold Council central bank gold survey, which found that central banks around the world are currently buying gold as gold:
performs during times of crisis
is a long-term store of value
is an effective portfolio diversifier
lacks of default risk and political risk
is highly liquid
And critically, that gold is held by central banks in "anticipation of changes in the international monetary system."
Reasons central banks are currently buying gold. Source: WGC Central bank Gold Survey 2021
Conclusion
In the ancient Pali language, the Southeast Asian peninsula including present day Thailand was referred to as Suvarnabhumi, which means "Land of Gold" or "Golden Land".
As Asia's third largest gold market after China and India, physical gold is central to Thai culture and society. All across the country, gold is held as a form of savings and investment, and thousands of gold selling outlets exist across the country selling everything from gold jewelry as well as gold coins and gold bars. Gold is also gifted during Thai weddings and is central to religious ceremonies in Thailand. Even Thailand's currency, the Baht, owes its name to an historic precious metals weight measurement, also called 'Baht'.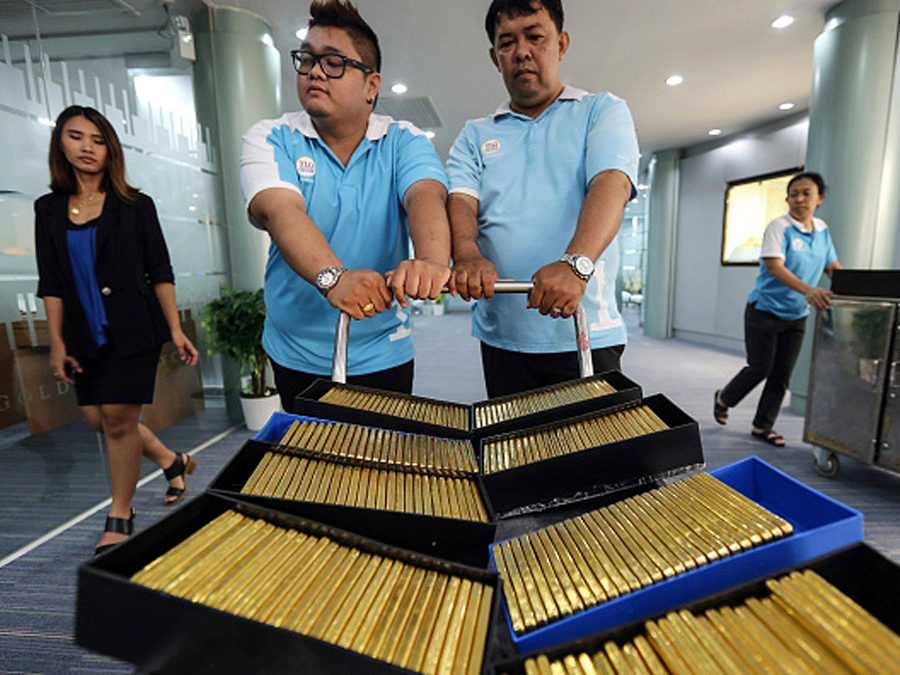 Even though Thailand is not a gold producer, it is the 10th largest gold exporting country in the world. Gold plays such a major role in Thailand's economy that when the international gold price rises and the local population sells to dealers who then sell the gold abroad, this materially strengthens the value of the Thai Baht currency, as the gold exporters convert US dollars back into Thai Baht.
In fact, gold is so central to the Thai economy that at least one group of Buddhist monks regularly donates large quantities of physical gold to Thailand's central bank so as to "safeguard the country's reserves to ensure economic stability". To date, this group has in total donated 13,060 kgs of gold to the Bank of Thailand.
An impressive amount of gold. But not as impressive as a 90 tonnes purchase. In gold savvy Thailand, where everyone knows the importance and value of gold, it is perhaps not that surprising that in an environment of continued monetary debasing and global financial turmoil, the Thai central bank is leading the way in showing the world why it's not just in name only, the "Land of Gold".