Swiss gold refinery Argor-Heraeus to be acquired by Private Equity investors
News has just emerged in the gold market that the giant Swiss precious metals refiner, Argor-Heraeus, has held discussions to be acquired, and that the likely outcome is an acquisition by a private equity group. This private equity group is believed to be London-based WRM CapInvest, part of Zurich headquartered WRM Capital. Other interested buyers are also believed to have examined a bid for Argor-Heraeus, including Japanese refining group Asahi and Swiss refining group MKS-PAMP, however, neither of these are thought to be in the running at this stage. Since this news is developing, details of the discussions and potential acquisition are still thin on the ground.
If Argor-Heraeus is acquired, it will mean that 3 of the 4 giant Swiss gold refineries will have been taken over within less than a year and a half of each other.
In July 2015, Indian headquartered Rajesh Exports, the world's largest gold jewellery fabricator, announced the agreed acquisition of the giant Swiss gold refinery Valcambi. See BullionStar article "Swiss Gold Refineries and the sale of Valcambi" for full details. In July 2016, Japanese precious metals refiner Tanaka Kikinzoku Kogyo K.K , part of the Tanaka Precious Metals group, announced the agreed acquisition of Metalor Technologies, another of the large Swiss gold refineries. Retrospectively, the acquisition of Valcambi by Rajesh Exports now looks to have initiated a flurry of take-over activity in the normally low-key Swiss precious metals refining world.
While Metalor is based in Marin-Epagnier in the Canton of Neuchâtel in northwest Switzerland, the other 3 giant Swiss gold refineries, Argor-Heraeus, Valcambi and MKS-owned PAMP are all located literally within a few kilometres of each other in the Italian speaking Canton of Ticino, in southern Switzerland, near the Swiss-Italian border. Argor-Heraeus is in Mendrisio, Valcambi is in Balerna, and PAMP is in Castel San Pietro. Mendrisio is 4 kms from Balerna and 2kms from Castel San Pietro.
The Golden Triangle of Swiss gold refineries, Canton of Ticino
Argor-Heraeus is currently jointly-owned by German bank Commerzbank, German industrial and refining group Heraeus, the Austrian Mint, and Argor-Heraeus management. See BullionStar Gold University for a full profile of Argor-Heraeus.
Commerzbank owns 32.7% of Argor-Heraeus' share capital. The Austrian Mint holds another 30% of Argor-Heraeus shares. In its annual report, Heraeus doesn't reveal its holding in Argor-Heraeus, but with the Austrian Mint and Commerzbank owning a combined 62.7%, this means 40.2% of the shares are held by Heraeus and Argor-Heraeus management. On the Argor-Heraeus website, Heraeus is listed first on the shareholder list, which could signify that it's the largest shareholder. This would put Heraeus' shareholding above Commerzbank's 32.7% stake, and mean that Argor-Heraeus management probably hold a shareholding somewhere below 7%.
A Precedent for Private Equity Ownership
Interestingly, there is a precedent of private equity ownership in the Swiss precious metals refining sector. Until Tanaka's take-over of Metalor technologies last July, Metalor was majority owned by French private equity company Astorg Partners and Belgian private equity company Sofina, which between them held approximately 60% of Metalor's shares. The remainer of Metalor's shares were held by Metalor management, as well as by Martin Bisang and Daniel Schlatter. Bisang and Schlatter are connected with Swiss boutique investment bank Bellevue Group, which has in the past also acted as a strategic adviser to Metalor. Bisang had bought into Metalor in 1998 along with Swiss executives Ernst Thomke, Rolf Soiron and Giorgio Behr, and an additional group of Swiss executives bought into Metalor in 2004. These additional buyers were a secretive bunch, only known as the 'Partners Only', a group which was said by Swiss media at the time to have been connected to the Swiss Roche group.
Likewise, when Valcambi was sold to Rajesh Exports in July 2015, the then owners of Valcambi were a combination of US gold mining company Newmont (with an approximate 60% shareholding) and a group of shy Swiss private investors (who held the remaining shares) the largest of which were Emilio Camponovo and the Camponovo family. Technically, you could call these Swiss private investors direct private equity investors, or equivalent.
Even the PAMP refinery, which is owned by the Geneva based MKS-PAMP group, could be described as private equity, or at least concentrated privately-owned equity, since the group is controlled by the founding Shakarchi family. Note that MKS-PAMP has a parent company MKS PAMP Group BV based in Amsterdam, but this appears to be purely for corporate structure reasons.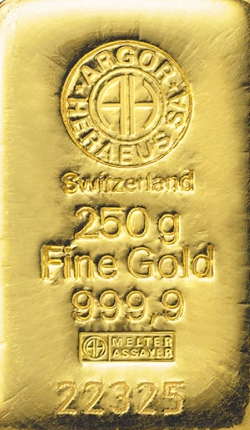 The Sellers – Heraeus, Commerzbank and Austrian Mint
Since Argor-Heraeus has multiple owners, any sale would in theory be more complex than if the refinery only had a single owner. Looking quickly at the current owners, Commerzbank in its bullion banking marketing literature usually draws attention to the fact that its partial owner of a gold refinery, and uses this as a selling point by trumpeting the fact that it has direct connections to the physical gold world. Selling Argor would probably be a negative for Commerzbank, however, it may need the cash given that german banking is in a crisis at the moment. The Austrian Mint is owned by the Austrian central bank (OeNB), which in turn is owned by the Austrian State. Any sale of the Austrian Mint's shares in Argor would be a one-off profit boost to the OeNB. In 2015, the Austrian Mint sold a stake it held in Casinos Austria (yes, a casino company), so maybe the Mint has a new-found strategy to jettison its non-core investments. Although presumably the Mint gets preferential precious metal supply from Argor, or one would think that it does.
Heraeus also has close relationships with Argor-Heraeus, for example, in the production of various precious metals products, so a sale by Heraeus of its stake in Argor could in theory affect these synergistic relationships. All of these shareholders also receive a substantial annual cash dividend from Argor-Heraeus which is a nice to have to say the least. Selling their stakes would obviously be a loss of their cash dividends. I personally was surprised that Argor-Heraeus would be up for sale, since it definitely has what looks like a very stable, secure and content set of shareholders. As per BullionDesk coverage of this potential deal, Commerzbank and Heraeus have yet to respond or comment on the potential sale of Argor-Heraeus.
Interested Parties in an Argor Bid
Presuming that the private equity company WRM CapInvest, as well as Asahi Refining, and MKS-PAMP all looked at potentially acquiring Argor-Heraeus (and that's the word in the gold market right now), let's have a quick look at these players.
The current Asahi Refining group, headed by Asahi Holdings, owns precious metals refinery operations in 5 locations worldwide, namely Tokyo, Salt lake City, Utah (US), Brampton, Ontario (Canada), Mexico City, and Santiago (Chile). Some readers will be familiar with Asahi's takeover of the US and Canadian gold and silver refining operations of Johnson Matthey, which was completed in March 2015.  If Asahi had emerged as the favourite suitor to acquire Argor-Heraeus, it would mean that 2 Japanese headquartered precious metals refiners, Tanaka and Asahi, would both own a Swiss precious metals refinery, namely Metalor and Argor-Heraeus. Market sources indicate that Asahi's bid value for Argor-Heraeus wasn't as high as the bid tabled by the favoured private equity group bidder. Argor-Heraeus also operates a precious metals processing plant in Santiago in Chile, which could feasibly provide synergies to Asahi, since Asahi runs a refining operation in Santiago.
Its interesting that MKS-PAMP has been mentioned as a possible acquirer of Argor-Heraeus. As mentioned, the PAMP precious metals refinery is literally 'down the road' from the Argor-Heraeus refinery, i.e. 2 kms down the road. PAMP is a prestigious global brand in precious metals refining and bar production, and so is Argor-Heraeus. But would the resulting consolidation in the Swiss precious metals refining industry make sense, and how would this affect the PAMP and Argor-Heraeus brands. That's a difficult question to answer, and only PAMP could accurately answer that at this time. Market sources say that MKS PAMP was shy in revealing its full financials, data that would presumably be necessary if it put in a bid for Argor-Heraeus.
Argor-Heraeus opened a new refining headquarters in Mendrisio in 2013 which doubled its former refining capacity. According to its 2014 corporate responsibility report, the new Argor-Heraeus refinery has an annual refining capacity for gold of between 350 and 400 tonnes. The PAMP refinery has an annual refining capacity of 450 tonnes of gold, and an annual silver refining capacity of over 600 tonnes.  A merged PAMP and Argor-Heraeus would have an annual refining capacity for gold of about 900 tonnes. Their neighbour Valcambi has an annual refining capacity for gold of 1600 tonnes. A combined PAMP and Argor-Heraeus would therefore start to approach the production capacity of Valcambi. Each of Valcambi and a combined PAMP ~ Argor would also have a refining presence in India also, since PAMP has an Indian refining joint-venture with MMTC, and Valcambi, owned by Rajesh Exports, has refining operations in India. Argor-Heraeus is also one of only five refinery members of the London Bullion Market Associations (LBMA) good delivery referee panel. PAMP is also on this panel, as is Metalor and Tanaka. This panel assists the LBMA is maintaining quality standards of refinery members worldwide. Argor-Heraeus is also a full member of the LBMA, one of the few refineries to be a full LBMA member.
Finally, turning to the private equity company WRM CapInvest, which is said by sources in the gold market to be the preferred bidder for Argor-Heraeus, what is known about this company? According to its website,  WRM CapInvest is a division of the WRM Capital group of companies. The WRM Group was founded by Raffaele Mincione, who is Italian, but who resides in Switzerland. WRM Group seems to have started as a private wealth management / family office type company but has expanded into private equity.
WRM CapInvest is based in Berkeley Square in Mayfair in London, Mayfair being a very popular location for hedge funds and private equity funds to locate in. WRM CapInvest was incorporated in the UK in March 2012 as Capital Investment Advisors Ltd, but changed name to WRM CapInvest on 11 May 2016. The original single director of WRM CapInvest was Massimo Cattizone, also an Italian. Massimo Cattizone and Raffaele Minicone were listed as shareholders, with Minicone holdings 80% of the WRM CapInvest shares and Cattizone holding 20% of the shares. In July 2013, Leonidas Klemos (Italian), and Michele Cerqua (Italian) were appointed as directors of WRM CapInvest, and Massimo Cattizone ceased to be a director. Between May 2014 and March 2015, Roberto Agostini (Italian) was also a director. In July 2015, Raffaele Minicone was appointed as a director. In February 2016, Leonidas Klemos ceased to be a director. By April 2016, Raffaele Minicone was listed as owning the entire share capital of WRM CapInvest. The current directors are therefore Raffaele Minicone and Michele Cerqua. The reason for listing the above is to highlight that all the directors of WRM CapInvest since it was incorporated have been Italian, and there is a Swiss connection since Raffaele Minicone is based in Switzerland, and the WRM Group is headquartered in Zurich, Switzerland.
Therefore, the fact that Argor-Heraeus is based in the Italian speaking Swiss Canton of Ticino, right beside the Italian border, and that CapInvest is operated by an Italian team, owned by an Italian, and part of a Swiss based group is probably of relevance to a potential acquisition of Argor by CapInvest. Additionally, Knight Frank, a large commercial real estate agent, mentioned on its website in a 2013 article that "CapInvest, which is also backed by private Italian investors, purchased 60 Sloane Avenue for US$206m."
So the question is, assuming CapInvest acquires Argor-Heraeus, is it acquiring the company on behalf of CapInvest, or on behalf of some other Italian or Swiss investors, or Italian Swiss, or Swiss Italians? And if an acquisition is on behalf of other investors, who are these investors? Could the private investors who were involved in Metalor (such as Martin Bisang and his circle of business acquaintances), or the private investors that were involved in Valcambi (such as Emilio Camponovo and friends) be re-entering the Swiss refining industry with an acquisition of Argor-Heraeus. They would definitely be some of the best placed people around that understand how the precious metals refining industry works, given their experience. Or possibly the Argor-Heraeus management and other local business people in Ticino are moving to take ownership of Argor through a private equity route?
Another potential connection is UBS. Swiss investment bank UBS previously owned the Argor-Heraeus refinery, and only exited its shareholding in 1999, so it's also possible that a UBS connection could pop up in a Argor-Heraeus acquisition deal. This has a precedent since when Valcambi was acquired by Rajesh Exports in 2015, Credit Suisse, which itself used to own Valcambi (and which Valcambi executives had close ties to), provided strategic corporate finance advice on the Valcambi acquisition and also actually partially funded the Rajesh acquisition.
Whatever the outcome of these developments with Argor-Heraeus, further details should emerge sooner rather than later. So, as they say, watch this space.