Central Banks' secrecy and silence on gold storage arrangements
Whereas some central banks have become more forthcoming on where they claim their official gold reserves are stored (see my recent blog post 'Central bank gold at the Bank of England'), many of the world's central banks remain secretive in this regard, with some central bank staff saying that they are not allowed to provide this information, and some central banks just ignoring the question when asked.
In the 'Central bank gold at the Bank of England' article, I said that "A number of central banks refuse to confirm the location of their gold reserves. I will document this in a future posting." As promised, this blog post explains what I meant by the above statement.
Some of those central banks may have made it into the Bank of England storage list if they had been more transparent in providing gold storage information. However, since they weren't transparent, these banks make it into the alternative 'non-cooperative' list. One subset of this list is central banks, which to be fair to them, did actually respond and said that they cannot divulge gold storage information. The other subset is central banks which didn't reply at all when I asked them about their official gold storage location details.
The below list, although not complete, highlights 7 central banks and 1 official sector financial institution (the BIS), which, when asked where do they store their gold reserves, responded with various similar phrases saying that they could not provide this information. Between them, these 7 central banks claim to hold 1,500 tonnes of gold. Adding in the BIS which represents another 900 tonnes, in total that's 2,400 tonnes of gold where the central banks in charge of that gold will not provide any information as to its whereabouts. Much of this 2,400 tonnes is no doubt stored (at least in name) at the FRBNY and the Bank of England, with some stored in the home countries of some of the central banks.
I have included the 8 responses below, but have deleted any references to individuals' names or email addresses:
Bank of Japan: 765.2 tonnes of gold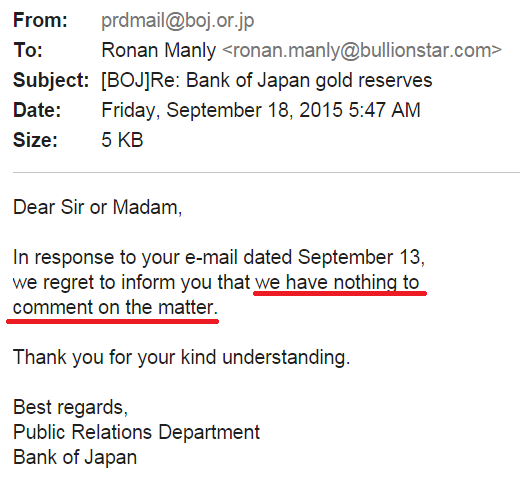 Bank for International Settlements (BIS): > 900 tonnes of gold
BIS manages 443 tonnes of gold under custody for central banks
BIS owns 108 tonnes of gold itself
BIS manages 356 tonnes of gold deposits from central banks
BIS has 47 tonnes of gold swaps outstanding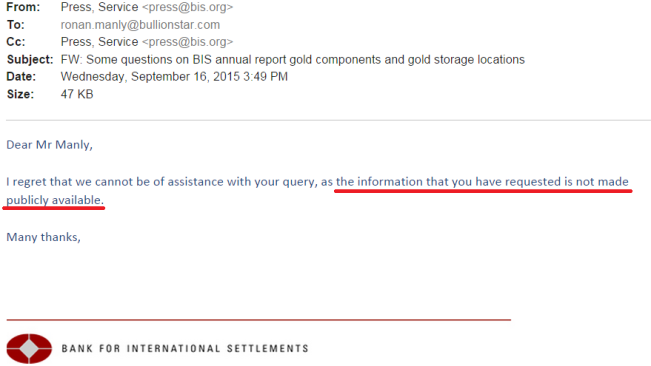 Spain: 281.6 tonnes of gold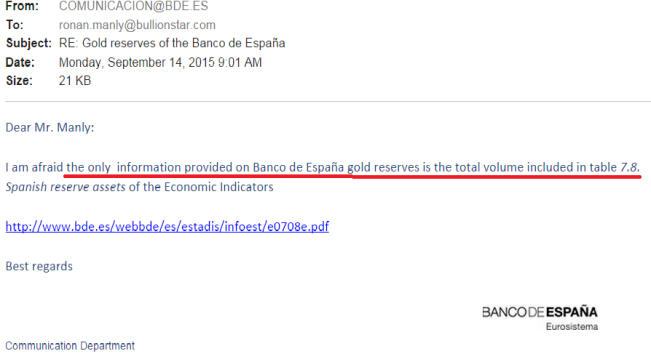 South Africa: 125.2 tonnes of gold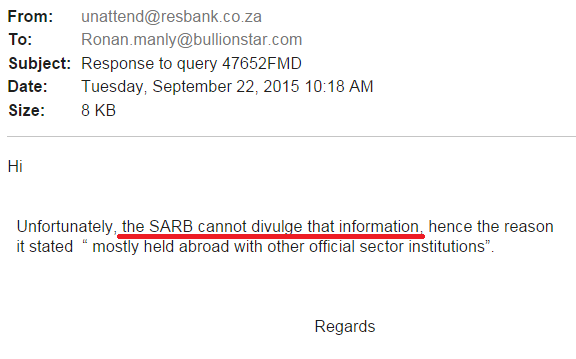 Thailand: 152.4 tonnes of gold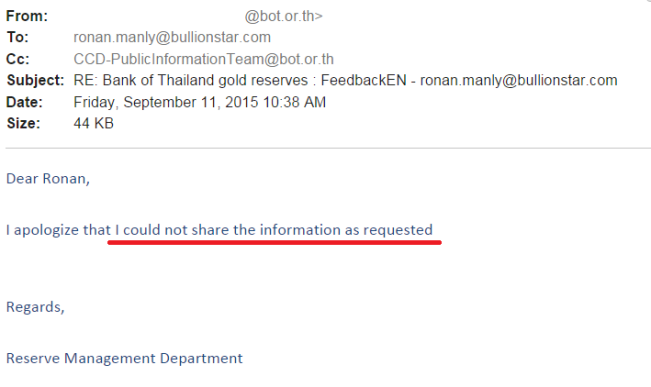 Singapore: 127.4 tonnes of gold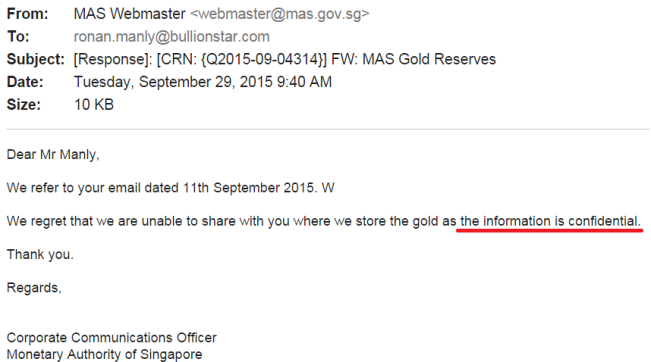 Malaysia: 37.9 tonnes of gold
Paraguay: 8.2 tonnes of gold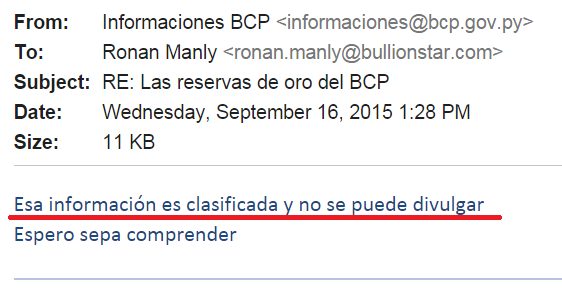 …which translates into English as ….."That information is classified and cannot be disclosed. I hope you understand".
'No Answer' central banks
I also emailed some central banks which didn't respond to the question, 'where are your gold reserves stored?'. They may not have responded for various reasons, including the emails may not have reached the relevant people who would normally be responsible for such matters. These banks account for another 500+ tonnes of gold reserves. Again, some of this gold is probably at the Bank of England, such as, some of Jordan's and Kuwait's gold, due to historical ties with the Bank of England.
Banque du Liban (Lebanon): 286.8 tonnes  (said to be in Lebanon and FRB New York)
National Bank of Kazakhstan: 208.1 tonnes
Central Bank of Kuwait: 79 tonnes
Central Bank of Jordan: 34.2 tonnes
Bank Al-Maghrib (Morocco): 22.1 tonnes
National Bank of Cambodia: 12.4 tonnes
BIS – Transparency in name only
The following slide, from a 2007 Bank for International Settlements presentation, shows how ridiculous the claims of central banks are when they use the meme that they are transparent and accountable, when in fact, they are nothing of the sort.
The BIS' response above on the gold storage question, i.e. "the information that you have requested is not made publicly available" makes a mockery of its own claims in the below slide that central banks are required to be transparent and accountable.
The only 'gold' that the BIS is willing to discuss is its pie-in-the-sky corporate-speak 'Golden Triangle' of central bank Autonomy complimented by Transparency and Accountability when it states:
 – TRANSPARENCY – important for holding central bank to account
– ACCOUNTABILITY – crucial counterpart of autonomy in an open society, makes transparency more credible
 (I added the 2 red arrows to the slide to highlight these points)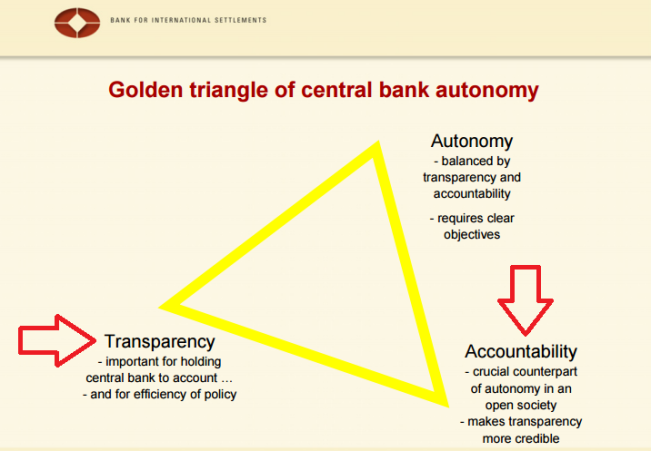 Conclusion: Finland's change of heart
The fact that staff of some central banks won't discuss that bank's gold storage arrangements is no doubt an internal rule, or a storage depository rule, or some such nonsense. The nonsensical nature of their non-cooperation and evasion is highlighted by the below about-turn from the Bank of Finland, when in January 2013 it childishly told me that "We are not allowed to tell the exact depository, town or country", and then 9 months later in October 2013, the powers-that-be at the gold depositories gave the go-ahead, for the Bank of Finland then spilled the beans, squealing that its gold was stored at a cornucopia of the usual suspects, namely, the Bank of England, the Federal Reserve Bank of New York, the Swiss National Bank, and smaller amounts at the Swedish Riksbank and the Bank of Finland.
Given that the Bank of England, the Federal Reserve Bank of New York, and the Swiss National Bank all agreed to the Bank of Finland's request in 2013 to publish the individual storage locations of its gold, and given that the vaults of these 3 banks store the vast majority of internationally stored central bank gold, therefore it also makes a mockery of central banks which persists in claiming that they cannot divulge information on the storage of their own gold, which in most cases is supposedly spread between the very same 3 sets of vaults.
And after the Bank of Finland press release, which most Finns and most of the world probably didn't even see, Helsinki and the world continued about its business as before. The point being that the storage locations of central banks' gold reserves is not that big of a deal. Its only the central banks that make it into a big deal with their secrecy….unless of course, they are hiding something bigger, and the gold is not even where its supposed to be.
Bank of Finland – 31 January 2013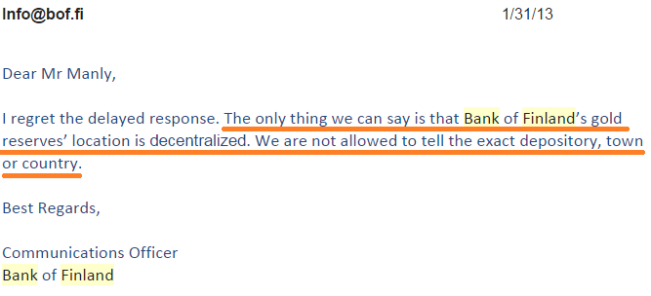 Bank of Finland – 25 October 2013