Oxi (No) is the Vote; Increased Demand For Gold
PRESS RELEASE
 6th July 2015
For immediate release
Singapore: Demand for physical gold has increased significantly in the last week leading up to the Greek referendum and is expected to continue to increase following Sunday's outcome of the referendum with 61 % voting No.
Mr. Torgny Persson, CEO of BullionStar Pte Ltd says: "Demand for gold has more than doubled in the last week compared to previous weeks and is at much higher levels than what is normal for the season. We've seen a large influx of new customers not only concerned about the Greek situation but also concerned about the state of the global economy with its unprecedented debt levels."
Gold refineries and wholesalers around the world are likewise reporting higher sales and people are concerned about the risk of looming gold shortages.
Mr. Persson continues "We are still well stocked on most products but replenishing is starting to become more challenging. If the demand continues, there's a risk for delivery delays ahead."
The Greek debacle shows the advantage of holding gold bullion when capital controls are introduced.
Gold is keeping its value over time, gold is liquid and gold is a great asset to preserve wealth and savings in over time.
Greeks saving in gold would have had their savings accessible with no risk of losing their deposits from a potential bail-in.
Mr. Persson on the gold price development: "The price of gold has been fluctuating in a narrow range this year, up 0.6 % since the start of the year. Increased physical demand doesn't paradoxically enough always translate to increased prices as the price of gold is set on the paper markets. As part of a hedging strategy, when people choose to sell their paper gold and buy real physical gold, the price may actually decrease even though there is no net change in holdings."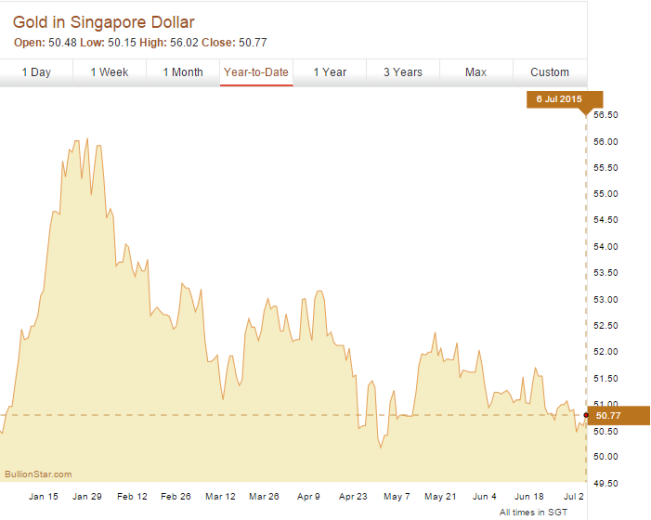 Source: BullionStar Charts
Media contact:
Mr. Luke Chua, Sales Manager BullionStar Pte Ltd
E-mail: luke.chua@bullionstar.com
Phone: 6284 4653