Mustafa Centre: Gold in Singapore
While there are a number of specialist companies such as BullionStar servicing Singapore's retail gold bullion market, the most unusual place to buy gold bars in Singapore must be the Mustafa Centre in the Little India neighborhood.
Located in a building on Syed Alwi Road, and part of another adjacent building on Serangoon Road, the Mustafa Centre is a cluttered haphazard department store and arcade that seems to sell everything from clothes to electronics, from perfumes to gold jewelry, and everything in between. It is also known as being one of the biggest gold jewelry outlets in Singapore.
Crowded and Congested
The Mustafa Centre itself is frequently crowded, often congested, and stays open 24 hours a day. Even trying to approach one of the entrances to the Mustafa Centre can be a stressful experience, and this is after navigating through a maze of often crowded streets if you find yourself approaching from the nearest MRT Station, which is itself a 15 minute walk from Mustafa's premises.
Once you do happen to find Mustafa's gold jewelry section, which is located in the basement 1 level of one of the centre's buildings, you will have to navigate past a floorspace crammed with clothes displays before stumbling upon a series of interconnected aisles assigned to gold jewelry.
While this jewelry space is about the size of a basketball court and stacked full of counters displaying gold earrings, gold rings, and gold chains and necklaces, the gold bar and gold coin display is relegated to a tiny rectangular counter, as if it was an after-thought among the masses of gold jewelry being hawked. This small gold bar and coin counter is itself cluttered, and badly presented, and is reminiscent of the display cases of a second-hand IT equipment shop.
Limited Selection
The advertised prices for the limited selection of gold bars and gold coins that are on offer at Mustafa consists of a partially typed and partially hand-written price list page that sits on top of the counter. When this correspondent visited on the Sunday afternoon of 29 October, the price list strangely had the dates 28 – 29 October scrawled at the top, as if it had just been written one time that weekend on the Saturday and then not updated over the weekend.
The accuracy of the prices on that particular price list are therefore called into question. Where the Mustafa Centre sources its gold prices or 'Gold Rate' from is also not clear. In India and India's expat communities, 'Gold Rate' is a term often used to refer to the gold price.
Mustafa's bullion products and their prices, although typed, are squashed on to the list, with various hand-written notes along the left and right side margins. Strangely, parts of the list are highlighted in yellow highlighter marker. What this signifies we do not know, but perhaps it refers to the products that are in stock as opposed to out of stock.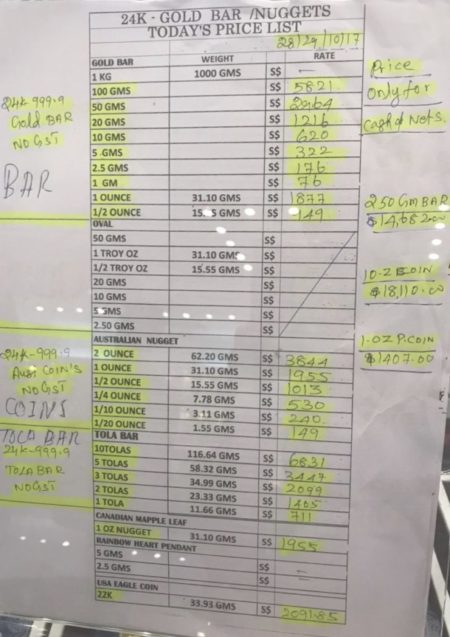 Within the actual display cases of Mustafa's gold bar display cases, the gold bars are very much crammed into the display area as if everything in stock is actually on display. The old adage of "more is less" as regards presentation and visual display seems to have been lost on whoever lays out the Mustafa display cases.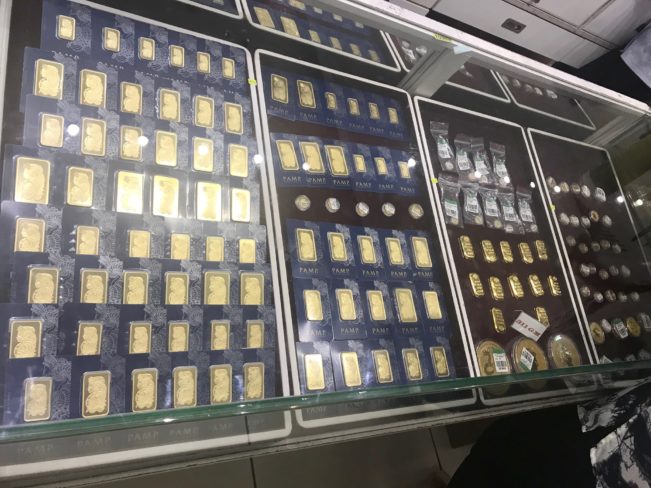 Disappointingly, there is also a very limited range and brands of gold bars and gold coins actually offered by Mustafa's gold bullion counter, with nearly everything in the bar section being of the PAMP brand, and with very few gold coin types at all.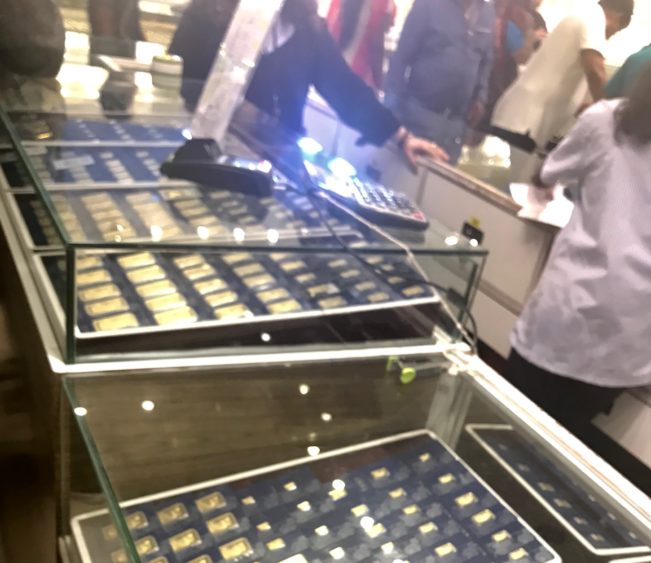 A number of precious metals research consultancies regularly do field trips to bullion markets around the world, including Singapore, so as to gauge at first hand the level of retail demand for bullion in a particular market. As regards Singapore, some anecdotal evidence we have heard from these consultancies is that it is virtually impossible to calculate the level of gold bullion demand in the Little India area.
Some of the reason for this is because gold bars and gold coins regularly arrive into Little India that have been hand carried from countries such as Dubai or other regional markets. And so this gold would not be reflected in the Singapore supply statistics of, for example, the Swiss refineries or the Canadian and Australian mints.
There are also a lot of resales of gold bullion in Little India, such as a parent swapping gold bars for gold jewelry to give to a sibling as a wedding present. It is therefore difficult to estimate where the gold bullion sold in Little India comes from. Not Mustafa specifically, but this issue must be borne in mind as regards Little India in general.
BullionStar's Spacious Shop and Showroom
In contrast to Little India's Mustafa, BullionStar could not be more different. BullionStar's shop and bullion showroom in central Singapore is located in an easily accessible and well-known section of New Bridge Road across from Clarke Quay Central Shopping mall. BullionStar's premises is also adjacent to the Clarke Quay MRT station. Those working in the Central Business District (CBD) will find that BullionStar is just a short lunchtime walk from the CBD.  And from Chinatown, BullionStar's showroom is less than a 10 minute walk.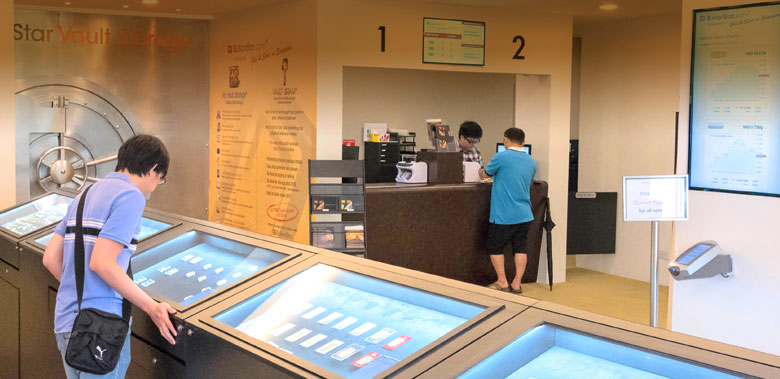 All of the gold bars and gold coins in the extensive range of gold bullion stocked by BullionStar are sourced either directly from the world's most prestigious precious metals refineries and mints such as Argor-Heraeus, PAMP, Heraeus, Valcambi, and the Royal Canadian Mint, or are supplied directly to BullionStar by the world's most renowned precious metals wholesalers such as Dillon Gage and A-Mark. BullionStar staff are also knowledgeable about all aspects of the range of gold and silver bullion stocked.
In BullionStar's shop and showroom, the floor-space is generous, the design calm and ergonomic, with many display cases devoted to gold bullion and silver bullion. Nothing is cluttered, and visitors and customers entering the air-conditioned showroom will be able to browse and view a huge range of gold bars and gold coins, and silver bars and silver coins, with every product type stylishly and spaciously displayed in its own display case. All display cases are also well-lit and well presented.
An impressive feature which BullionStar customers find useful are the electronic screens next to each display case which show updated prices for those products. These prices are live and are displayed electronically and updated electronically in real-time.
A final point to note is that the Mustafa Centre's gold bullion counter does relatively poorly in customer reviews, with customer feedback of poor customer service, dis-interested staff, and prices higher than elsewhere in Singapore. Based on reviews on the Singapore website 'Bullion Reviews', Mustafa scores lowest out of all 6 Singapore bullion dealers featured, with Mustafa getting a total score of 3.9 from 27 reviews.
In contrast, on the same review site, BullionStar receives a total score of 9.1 from 131 reviews. And BullionStar's prices are generally perceived to be some of the most competitive, if not the most competitive, in Singapore.