BullionStar's Visit to the World Money Fair in Berlin
In early February, I visited the World Money Fair in Berlin with a number of BullionStar executives, namely, Torgny Persson, CEO of BullionStar, Luke Chua, COO of BullionStar, and also Michael From, CEO of Liberty Silver in Sweden, a company founded by Mr Persson.
The World Money Fair is the world's leading numismatic and precious metals convention, and is now in its 45th year. Held each year in the Estrel Convention Centre, part of the Estrel Hotel (Germany's largest hotel), about 9 kilometers south-east of central Berlin, the 3 day event attracts a crowd of between 10,000 – 15,000 precious metals enthusiasts, as well as hundreds of precious metals exhibitors from all over the world, with a strong representation from the German gold market. The exhibitors range from precious metals refineries and mints, to precious metals dealers, to precious metals manufacturers of technical machinery and equipment for the minting and refining industry (such as coin presses), and finally many precious metals numismatics, coin and bank-note dealers. Hence, lots of bullion and numismatic coin collectors also attend the fair. The World Money Fair was previously held in Basel, Switzerland, up until 2006, at which point it moved to Berlin.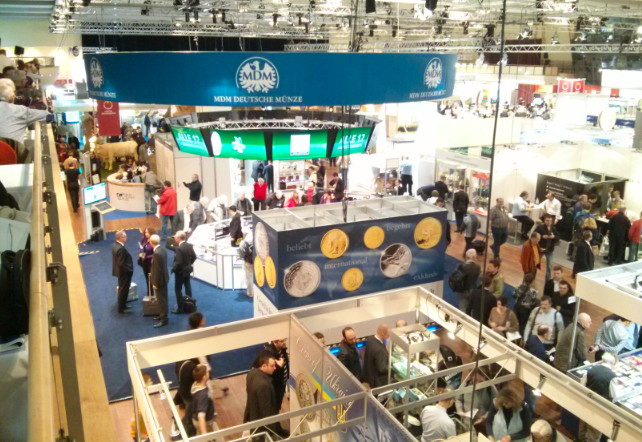 One of the more intriguing aspects of the convention is that apart from the individual attendees, literally hundreds of precious metals dealers and precious metals suppliers also attend the Fair, primarily to hold meetings and discussions with each other, and also to catch up on the latest offerings from the convention exhibitors. Most of these face-to-face meetings take place within the hotel lobby at the numerous seating areas, cafés, and restaurants that are positioned within the Estrel's expansive open plan atrium. While most of the meetings are pre-planned, there is an air of spontaneity as customers and suppliers rush around trying to keep to their previously agreed schedules, while bumping into old acquaintances. Some suppliers seemed to literally have numerous back-to-back meetings in the lobby for a good part of the first two days.
I sat in on some of BullionStar's meetings which included a large German gold and silver refinery, one of Switzerland's biggest gold refineries, and some of the largest worldwide precious metals wholesalers. I found these meetings fascinating as the format was a combination of an informal catch-up, and a more formal discussion of product pricing, business conditions, inventory requirements, bar premiums, and supply channels etc. We also attended dinners on different evenings with a variety of large precious metals suppliers from markets such as Germany, the US and Singapore. I considered it a privilege that during these meetings and dinners I was able to meet some of the top names from the worldwide gold refining and wholesaling sector.
On the first day I took a tour of the exhibition floor. This space consists of an immense series of halls about the size of a few football pitches. There were about 50 national and private gold and silver mints and central banks exhibiting, as well as approximately 250 dealers in precious metals, bullion and numismatics, and about 60 technical suppliers including some large gold refineries. It might seem surprising that central banks, such as Banco de México, would attend such a gathering, but given that many central banks regularly produce their own precious metals coins, it actually makes perfect sense, as they too are in the business of marketing their own coins.
While there were plenty of new releases of limited edition numismatic gold and silver proof coins, I was most interested in the investment bullion gold and silver bar and coin displays, but the vast number of displays (under protective glass) was extensive and varied and would easily take an entire day to see properly. A lot of well-known names were exhibiting, including the Perth Mint, the Royal Canadian Mint, the Royal Mint, South Africa's Rand Refinery, the Austrian Mint, PAMP, as well as MDM Deutsche Munze (Germany), Schoeller (Austria), and China Gold Coin Incorporation. As it's not every day one gets all of these mints in and refineries in the same room, I made sure to chat to staff on the various stands just to get an idea of their views on the precious metals market and their product offerings.
Some of the larger investment gold bar displays in the exhibition were laid on by German precious metals refinery Heirmerle + Meule along with its Spanish subsidiary Sempsa JP, as well as an extensive selection of gold and silver bars from German /  Belgian refinery Agosi (Umicore). Agosi even had a display of base metal investment bars which it calls AgosiBase, covering titanium, aluminium, copper, bronze, and brass bars, as well as Sparkasse gold bars which it produces on behalf of the German Sparkasse (Savings Banks).
Britain's Royal Mint also had a relatively large gold bar display of recently launched gold bars which use the former Royal Mint Refinery (RMR) logo. At the Royal Mint stand I also learned that its precious metals vault at its headquarters in Llantrisant, South Wales, is built to the security specifications of the Bank of England. Hmmm, could this mean that the Bank of England holds some of its gold not in London, but in the more remote Royal Mint vault, which after all is guarded by Britain's Ministry of Defence police force? The Royal Mint also points out on its vault page that customers can 'rest assured' that it operates "outside of the banking and London clearance systems", which doesn't really inspire confidence in the London precious metals vaulting system.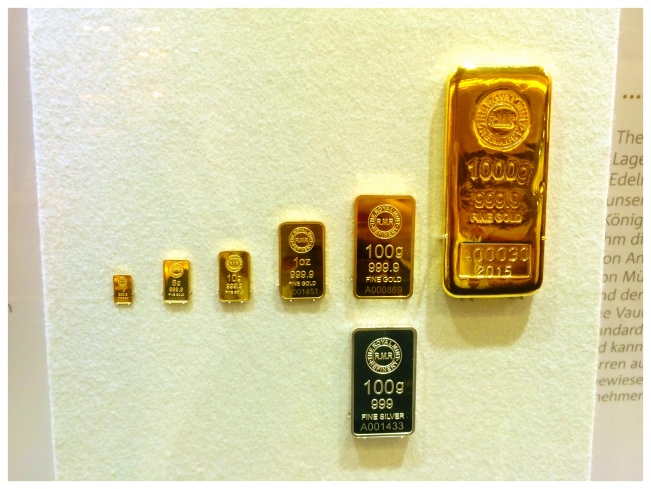 Each year, a different country is the 'Guest of Honour' at the Fair. This year, it was the turn of The Republic of Korea, and so KOMSCO (Korea Minting, Security Printing & ID Card Operating Corp), Poongsan (producer of coin blanks for 60 countries around the world) and Poongsan-Hwadong (an official distributor in South Korea for a lot of international mints), had large exhibit stands. While attempting to find out some lesser known facts about South Korea's gold market, I was surrounded by helpful representatives from KOMSCO and Poongsan, but a lot seemed to be lost in translation, although I did manage to learn that they are exporting gold bars to Indonesia, which was news to me.
There were also a lot of other mints exhibiting at the Fair but which were focusing on their 'mint coin' collections, such as Japan Mint, Czech Mint, Royal Dutch Mint, Portuguese State Mint etc. Mints usually use the World Money Fair to launch new coins or announce updates to existing gold and silver coins in their range. Surprisingly, the huge US Mint did not have a stand at this year's exhibition, although I understand that it did in previous years.
BullionStar also brought video recording equipment to Berlin and conducted short interviews with various exhibitors about their views on gold. We also recorded some interviews of our own views on the gold market, material which will be used in forthcoming BullionStar audio-visual releases. Finally, at one of the many banknote dealer stands, I purchased a very new looking 100 billion Zimbabwe Dollar note for the knockdown price of €10, which I think is the highest denomination Zim Dollar hyper-inflationary note ever issued.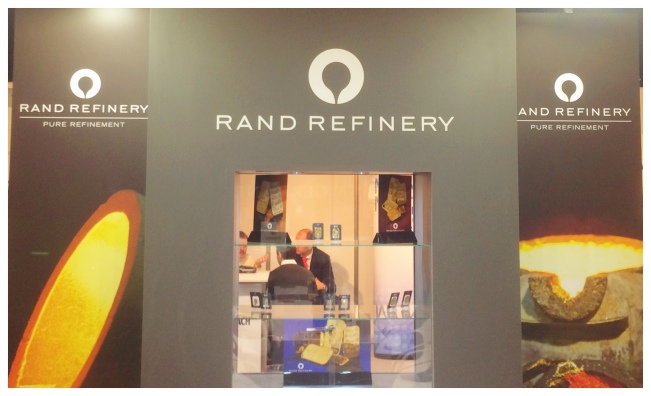 Next Year, South Africa is the Guest of Honour country at the World Money Fair, and Rand Refinery and South African Mint will be 'guest of honour' companies representing the South African gold market. The year 2017 is also the 50th anniversary of the launch of the famous Krugerrand gold coin, which undoubtedly explains the timing of South Africa receiving this accolade.