Bullion Center Information
Update 1 June
BullionStar is Open for Orders but Bullion Center to remain closed for now
On 26 May, we announced that our Bullion Center at 45 New Bridge Road would re-open 2 June. This announcement was based on the Singapore government having announced a list of permitted services based on SSIC codes which included SSIC codes starting with 66. BullionStar is classified as SSIC 66123 – Gold bullion brokers and dealers. The list of permitted services states that "…firms undertaking activities in line with the SSIC codes are allowed to resume operations from 2 June".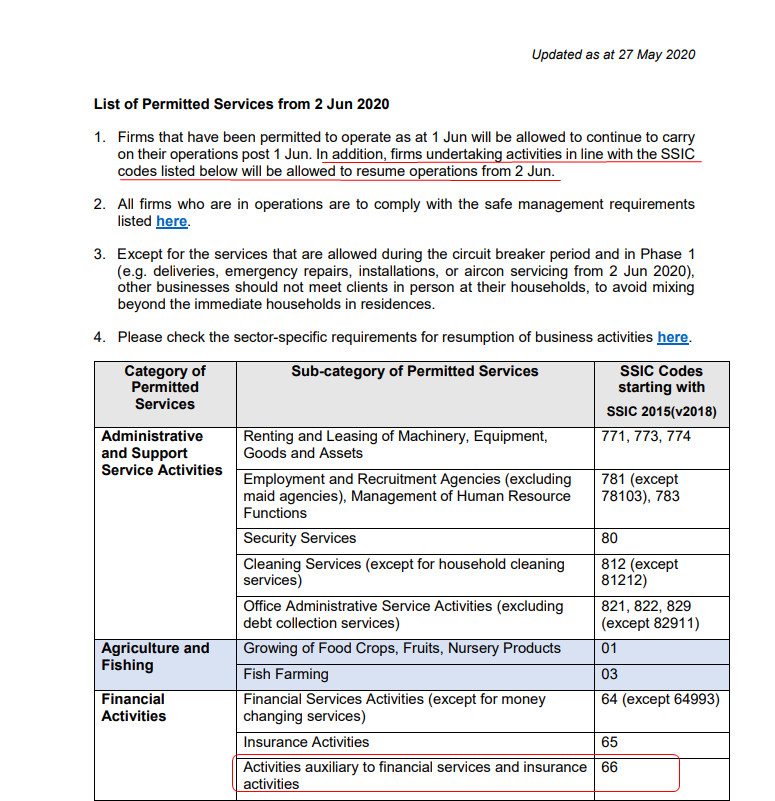 Screenshot from list of permitted services from 2 June 2020 from the Go Business Covid website.  The red emphasis is added by us.
In the list of permitted services, under point 4., it states that there's sector-specific requirements with a link to this page.
As the permitted list clearly states that we, as a gold bullion broker and dealer are allowed to resume operations from 2 June 2020 with no sector-specific limitations and as the contractual completion or fulfillment of a bullion transaction, i.e. the handover of metal to or from the customer is demonstrably necessary contractually, we naturally assumed that we would be able to re-open our bullion dealership and bullion center at 45 New Bridge Road again on 2 June 2020 provided that we comply with safe management requirements.
However, the Ministry of Trade and Industry (MTI) has now informed us that bullion dealers are not allowed to re-open retail activities but are merely allowed to have employees to return to office premises where necessary.
Until advised further, we will therefore continue with the same setup as before and as shown below:
Buy Orders – Delivery Methods
Domestic Shipping by Courier – FREE Delivery – OPEN
International Shipping by Courier – Discounted shipping and insurance – OPEN
Vault Storage – FREE Vault Withdrawal – OPEN
Personal Collection (Pick-up) from BullionStar's Bullion Center – OPEN for Orders. Pick-up after we have been allowed to resume such services by the government authorities.  
Minimum buy order amount: SGD 299
Customer Sell Orders: FREE Sell order Pick-up within Singapore – Minimum sell order amount: SGD 2,000 – OPEN
We are Open for Orders
BullionStar.com is open for order placement 24/7. BullionStar is allowed to process  e-commerce orders. This means that orders can be shipped for delivery (FREE within Singapore) or processed into vault storage as per normal.
Orders for Personal Collection (Pick-up) at BullionStar's bullion center at 45 New Bridge Road can also be placed online at BullionStar.com and be collected when government authorities allow us to resume such services.
Domestic Shipping by Courier – FREE Delivery
All local deliveries within Singapore for buy orders are FREE until further notice. Select "Shipping by Courier from Singapore" and your order will be delivered to you without any delivery charge. All deliveries are insured with BullionStar taking the full risk of the delivery until received by the customer.
NEW! Discounted International Shipping & Insurance
BullionStar has significantly discounted the rates for international shipping and insurance. The insurance cost for international shipments have been lowered from 0.3% to 0.15% of the order value and the shipping cost has been decreased between 25% – 75% for shipping to most countries.
Place your desired items in the shopping cart and select "Shipping by Courier from Singapore" to view the shipping cost to your country. All shipments are fully insured. BullionStar takes the full risk of the delivery until received by the customer.
Vault Storage
Store your bullion with BullionStar fully insured. Select "Vault Storage" in the checkout when placing your order. All customers placing buy orders for vault storage will be granted one FREE vault withdrawal until further notice (redeemed before 31 December 2020).
Personal Collection/Pick-up
For Personal Collection (Pick-up) orders from our bullion center in Singapore, you can still place your order online on BullionStar.com and pick up your items when we are allowed by government authorities to resume collection services again.
Cash payment, cheque payment, card payment and NETS payment has been temporarily suspended and will be accepted again when we are allowed by government authorities to accept customers into our bullion center to settle transactions. Meanwhile, orders can be settled by bank transfer, PayNow or in cryptocurrency.
Customer Sell Orders
Place your sell order online at BullionStar.com. The minimum order amount is SGD 2,000.
BullionStar will call you or email you to schedule a courier pick-up of your sell order after you have placed your sell order on BullionStar's website.
BullionStar will instruct you about the process and arrange for a FREE insured courier pick up of your metals and deliver them to BullionStar. Sell orders will typically be settled via bank transfer on the same day as the metal is received.
Alternatively, you may ship your metals to us at the following address:
BullionStar Pte Ltd
45 New Bridge Road
059398 Singapore
Singapore
Vault sell orders can be placed as per normal with no minimum amount.
Orders New Zealand
We are taking orders for our stock inventory in New Zealand as per normal. All products available for ordering are in stock in our vault.
Bullion Inventory & Availability
We have stocks for most popular products despite the overwhelming demand we have seen lately. All metals indicated as "In Stock" are in stock and available for immediate release/delivery. "Pre-Sale" indicates stocks that have been purchased by us and are on route to us. You can view the availability status of all products on our website.
Gold in times of Economic Turbulence
Throughout history in times of market turbulence, financial crisis and emergency, savers and investors rush to buy and own Investment Precious Metals as a safe-haven asset to protect their wealth. This time is no different, with demand for precious metals being at multi-year highs.
Central banks and monetary authorities are the world's largest holders of gold, who essentially hold their gold as a strategic essential financial asset in times of crisis and as financial insurance in the event of turmoil in monetary and financial markets. These central bank gold holders include the Monetary Authority of Singapore (MAS) which is one of the world's top thirty central bank gold holders, owning 127.4 tonnes of gold on behalf of the Singapore nation, worth approximately SGD 9.5 billion dollars at current market prices.
Essentially, central banks hold physical gold bars for the exact same reasons as individual savers and investors hold gold and other Investment Precious Metals i.e. for their safe-haven characteristics, gold's lack of counterparty risk, and gold's ability to be activated in times of crises.
In essence, the world's central banks hold gold to be protected and prepared for crises in which the financial and monetary system is in perilous danger, such as the current crisis. Likewise, private individuals hold gold and other precious metals as financial insurance against systemic collapse and to prepare for the possibility of a monetary system reset.