100 oz Johnson Matthey Silver Bullion Bar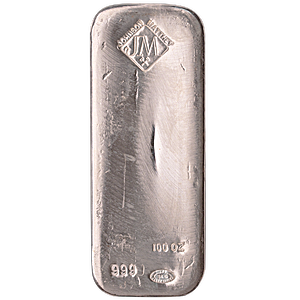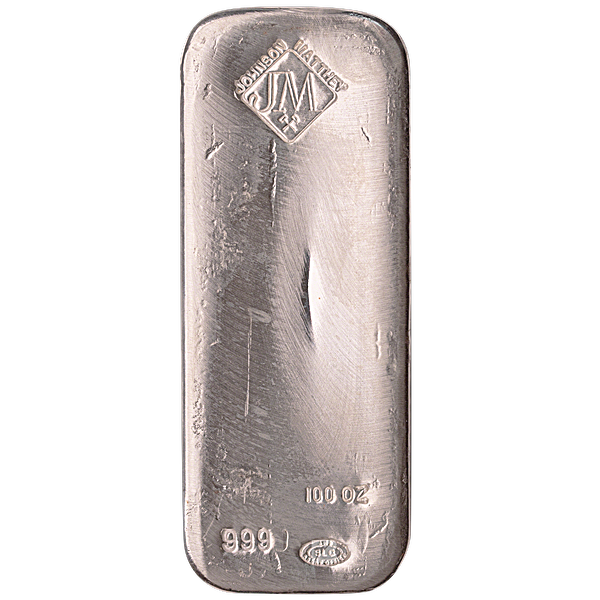 Roll over image to zoom in
100 oz Johnson Matthey Silver Bullion Bar
Limited Time Offer
Regular Price
IN STOCK: 317 bars
Great Premium:
Enhance your silver stack with these rugged yet handsome 100 oz silver bars from one of the most legendary names in silver refining Johnson Matthey. Containing 3.11 kgs of 99.9% silver, these bars assay mark of a 'JM' and small crossed hammers within a diamond logo.
Product Highlights
Country: Canada
Manufacturer: Johnson Matthey
Size: 159 mm x 51 mm x 38 mm
Purity: .999
Weight: 100 troy oz (3.11 kg)
Tax Status: No Tax/No GST
Product Information:
Johnson Matthey, founded in London in 1861, is one of the world's oldest and most famous precious metals refiners. At one time, Johnson Matthey operated one of the biggest precious metals refining groups in the world, with operations in the UK, US and Canada.
These Johnson Matthey 100 oz cast silver bullion bars have a silver content of 99.9% pure silver and weight 100 troy ounces or 3.11 kgs.
Since these silver bars are cast from a mould, the bars have the classic trapezoidal ingot or 'loaf of bread' shape, with a smooth front surface and a distinctive rougher surface area on the sides and back that arises from the cooling of the metal in the mould.
The front of the 100 oz cast silver bar is embossed with the well-known Johnson Matthey assay mark of a 'JM' and small crossed hammers within a diamond logo, and the words 'Johnson' and 'Matthey' surrounding the top of the diamond. The silver purity of the bar '999' is impressed into the bottom of the front surface.
In 2015, Johnson Matthey's gold and silver refining operations in the US and Canada were acquired by the Japanese group Asahi Holdings, meaning that Johnson Matthey's classic cast silver bars are no longer produced. For silver buyers, this adds a certain collectability to these particular silver bars. The JM cast bars are difficult to source, and once BullionStar's current stock is sold out, it may not be possible for us to replenish. Stack these silver bullion bars today.
Contact Us Regarding This Product
Customers who viewed this item also bought