PAMP Gold Multigram - 25 x 1 g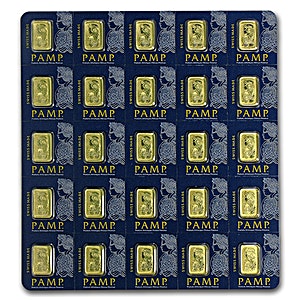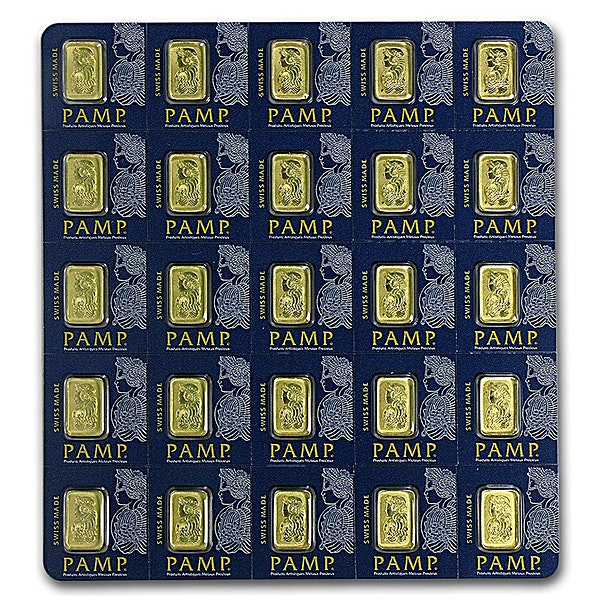 PAMP Gold Multigram - 25 x 1 g
Limited Time Offer
Regular Price
IN STOCK: 43 bars
Great Premium:
Product Highlights
Country: Switzerland
Manufacturer: PAMP
Purity: .9999
Weight: 25 gram (0.804 troy oz)
Tax Status: No Tax/No GST
Product Information:
Gold Multigram 25 is a unique gold bullion product from world famous Swiss refinery PAMP consisting of 25 x 1 gram Fortuna gold bars arranged within an attractive presentation card.
Each 1 gram PAMP gold bar is sealed within its own secure presentation packaging with all the bars interconnected within a 5 x 5 square sheet. Each bar within its secure packaging can be detached from the main sheet.
The individual PAMP 1 gram gold bars are fabricated from 0.9999 fine gold and portray a depiction of the Roman goddess of good fortune, lady Fortuna, together with symbols of good fortune such as a horn of plenty, sheaves of wheat, and precious metal coins.
The reverse of each 1 gram gold bar is imprinted with the PAMP refinery logo with the words "SUISSE 1g FINE GOLD' and the 'Essayeur Fondeur' Swiss assay mark. Together the 25 gold bars weigh 25 grams or 0.804 troy ounces.
The secure packaging of each 1 gram gold bar doubles as the bar's assay card, and displays the bar's unique sequential serial number, the bar's weight and gold purity, the words 'Assay Certificate' and the signature of the PAMP Assayeur.
With its innovative design and divisibility, the PAMP Multigram 25 is a great choice for investing, transacting and gifting as the card's design allows individual 1 gram gold bars to be detached and either traded or gifted.

Contact Us Regarding This Product
Customers who viewed this item also bought