1 oz South African Gold Krugerrand Bullion Coin (Various Years)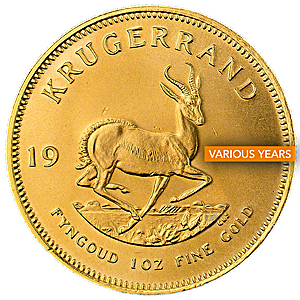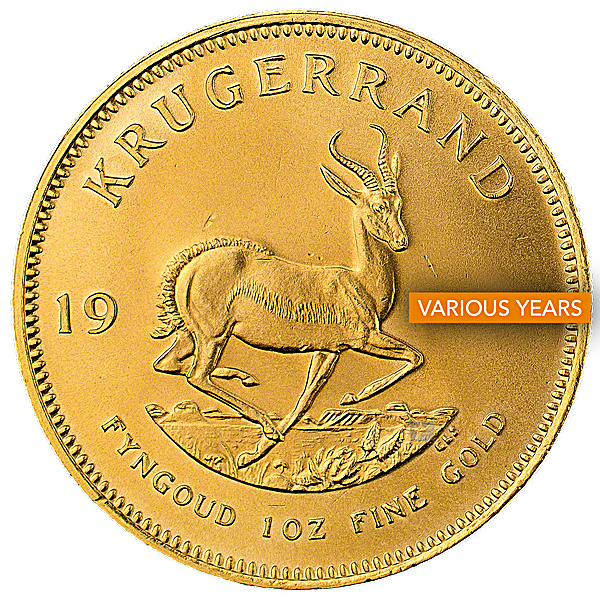 Roll over image to zoom in
1 oz South African Gold Krugerrand Bullion Coin (Various Years)
Limited Time Offer
Regular Price
IN STOCK: 97 coins
Great Premium:
The iconic 1 oz South African Gold Krugerrand is the world's most famous gold bullion coin and its success paved the way for other famous 1 oz gold bullion coins such as the American Gold Eagle, the Canadian Gold Maple Leaf, and the British Gold Britannia. You can't go wrong with Krugerrands!
Product Highlights
Country: South Africa
Manufacturer: Rand Refinery
Diameter: 32.77 mm
Thickness: 2.84 mm
Purity: .916
Weight: 1 troy oz (31.1 gram)
Tax Status: Gross Margin Scheme
Product Information:
To date some 46 million ounces fine gold contained in newly minted Krugerrands have been sold worldwide. This equates to more Krugerrands in circulation internationally than all other gold coins combined.
Contains 1 troy oz of gold but its total weight is 33.93 gram with the remainder being copper. The purpose of the alloy, consisting of 11/12 gold and 1/12 copper, is to make the coins more resistant to wear and tear since copper is a harder metal than gold.
The South African Chamber of Mines came up with the idea of the Krugerrand in the 60s as an idea of how to market South African gold. The coin was minted for the first time in 1967 and has been produced every year since.
The coin was initially only produced in one size being 1 troy oz. Since 1980, three smaller sizes being 1/10 oz, 1/4 oz and 1/2 oz are also minted.
The name Kruger originates from the 19th century boer president Paul Kruger which has also given name to the famous Kruger park. The rand, which is also the name of South Africas currency, is originating from the geographical name Witwatersrand in the Gauteng province where large amounts of gold was found during the end of the 19th century.
The portrait on the obverse of the coin is a picture of Paul Kruger.
Contact Us Regarding This Product
Customers who viewed this item also bought