US Mint closes West Point, adding to American gold bullion coin shortage
As New York State extends its coronavirus shutdown until May 15, the global pandemic's relentless onslaught on economic activity and bullion supply chains has claimed yet another victim, this time the US Mint's bullion coin production facility in West Point – upstate New York, which announced on Wednesday evening April 13, a complete and indefinite shutdown.
Indefinite West Point Shutdown
During the West Point Mint's indefinite shutdown, there will be no production of the 22 karat American Eagle gold bullion coins nor of the 24 karat American Buffalo gold bullion coins across the entire US Mint network, nor any distribution of the American Eagle gold bullion coins or American Buffalo gold bullion coins from the Mint's stock of inventory to Authorized Purchasers (the Mint's appointed wholesalers). Note that as 99.99% pure gold coins, American Gold Buffalo bullion coins qualify as Investment Precious Metals (IPM) when bought and sold in Singapore, and are therefore exempt from Goods and Services (GST) Tax, while American Gold Eagle bullion coins contain 91.67% gold (22 karat), and are not exempt from Singapore's GST.  On the other hand, American Silver Eagle bullion coins, which contain 99.9% silver, are classified as Investment Precious Metals and are thus exempt from Singapore's GST.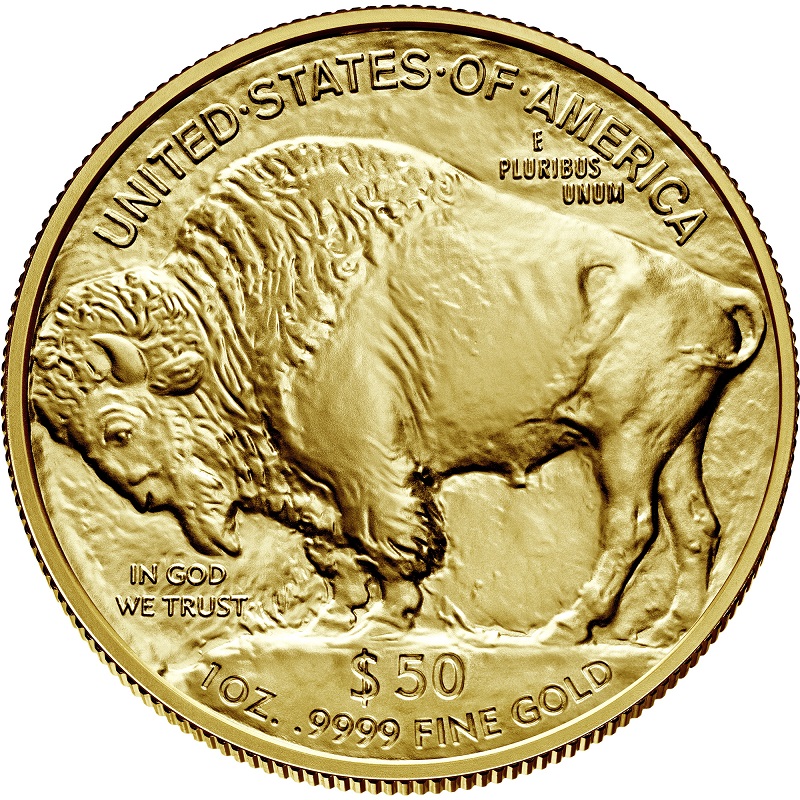 The US Mint's West Point facility, adjacent to the famous West Point Military Academy and located in the Town of Highlands on the west bank of the Hudson river, is part of Orange County, New York, which, like New York City and other parts of New York State, has been hard hit by the virus.
As of 17 April, Orange County, New York, alone has recorded a staggering 6,514 cases of COVID-19, with 211 deaths attributed to the virus in just that one county, and 210 hospitalizations. It is for this local regional reason that the US Mint made the decision to halt production at the West Point Mint, with a statement from the Mint saying that:
"Due to the increasing number of COVID-19 cases in Orange County, New York, and out of an abundance of caution, the United States Mint (Mint) has temporarily suspended production at the Mint facility at West Point..This action is being taken to further reduce the risk of Mint employee exposure to COVID-19. The Mint will resume production once it is deemed prudent to do so."
The current indefinite shutdown of the West Point Mint follows a previous shutdown of the facility during the last few days of March after a Mint employee there tested positive for the coronavirus. In that case, after cleaning and disinfecting the facility, the Mint re-opened on 1 April. But this new shutdown is a different kettle of fish since, as highlighted above, it has been triggered by the general spike in COVID-19 cases in the surrounding area across Orange County and the general region.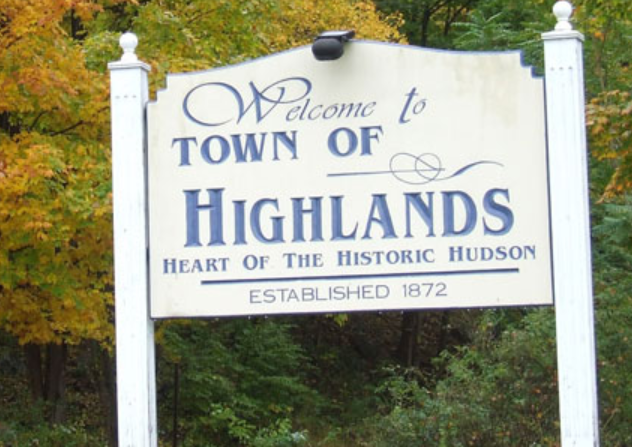 US gold bullion coins – No production or distribution
As well as a complete halt in gold bullion coin production at West Point, there will be no production of American Eagle silver bullion coins or American Eagle  platinum bullion coins, but the Mint will still offer bullion Silver Eagle coins (and America the Beautiful silver bullion coins) to the Mint's Authorized Purchasers (APs) while the limited inventory of those products still exists.
The fact that the US Mint is not offering Gold Eagle coins or Gold Buffalo coins to its Authorized Purchasers could indicate that the Mint has no inventory to offer, or that whatever reduced inventory it still has, it is conserving for the future. The fact that the Mint still has silver bullion coin inventory to distribute may be due to its recent decision to redirect some of the West Point silver coin production to the US Mint's production facility in Philadelphia.
The complete lack of availability of American Eagle and American Buffalo gold bullion coins from the US Mint during the West Point shutdown will therefore exacerbate the already acute shortage of these bullion coins across the entire precious metals supply chain, where existing supplies of US Mint bullion coins, along with everything else, have been drained from the stocks of many wholesalers and unprepared dealers due to a surge of safe haven demand for physical investment gold as the financial system crisis has intensified.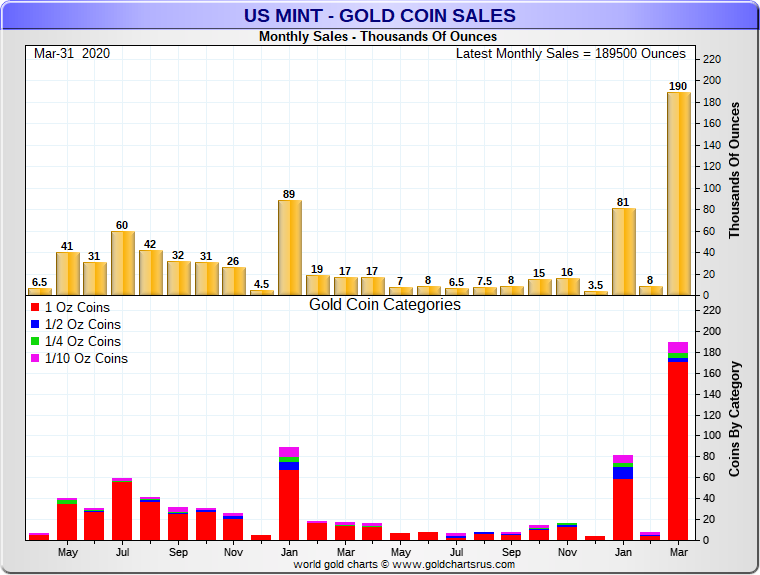 Last month during March, the US Mint sold an incredible 189,500 troy ounces of gold coins (nearly 6 tonnes), which dwarfs all other monthly gold coin sales by the Mint in recent years. Already in the first two weeks of April the Mint had sold 60,500 ozs of gold bullion coins across American Gold Eagles (56,500 ozs) and American Gold Buffalos (4,000 ozs). See the Mint's bullion coins sales page for details. Therefore April was shaping up to be another stellar month for gold bullion sales by the Mint before the decision to shut West Point scuppered that outcome.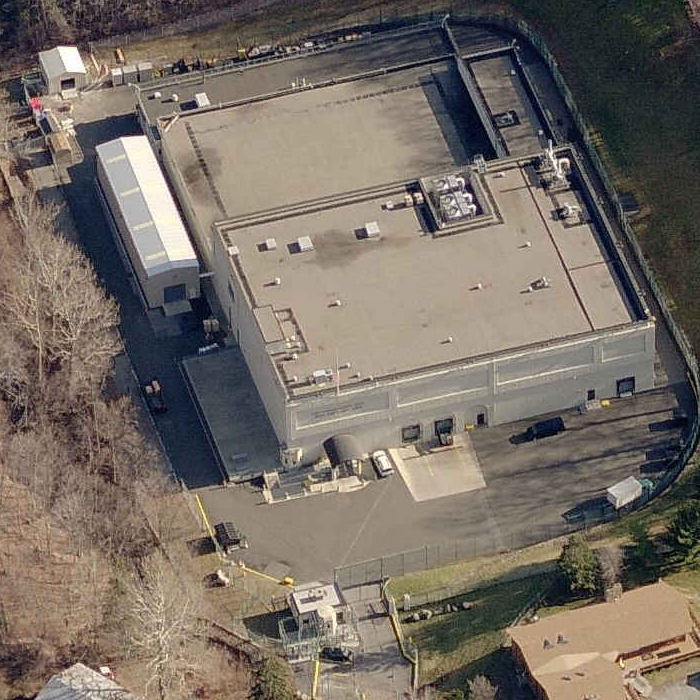 Fort Knox – Fully Operational
The West Point mint shutdown now means that two of the US Mint's four production facilities are now indefinitely closed, with the San Francisco mint facility, which normally produces numismatic coins, having been indefinitely shuttered back on March 18 due to COVID-19. Although the US Mint's Denver and Philadelphia mint facilities are still open and operating, this is little consolation to bullion savers and investors as these facilities specialize in circulation coinage.
Finally, for those who are  true believers of the US treasury / US Mint and think that the USA's claimed 8133.5 tonnes of gold reserves is really there,  then you can take solace that the US Mint has clarified this week that its Fort Knox bullion depository in Kentucky, which the Mint claim holds 4582 tonnes of US gold, is still 'fully operational'. Whatever exactly goes on in Fort Knox in a normal day we don't know, but whatever it is, the Fort Knox bullion depository staff mustn't have very much to do given that no one other than US Treasury Secretary Steven Mnuchin and his entourage has ever set foot in the bullion depository in recent years.
Likewise, even though the West Point production facility is now closed, the facility's security detail is presumably still on duty, since the US Mint claims to hold 1682 tonnes of US gold in the West Point bullion storage vaults. How much gold is actually in West Point is however a matter of debate, since, for example, the only gold that the US Mint ever acknowledges in West Point is the coin inventory gold in the facility's working vault.
Similar doubts surround the US Treasury / US Mint's claims of 1364 tonnes of US gold reserves supposedly stored at its Denver Mint facility in Colorado, which, as was detailed here in "Is there any gold bullion stored at the US Mint in Denver?" even the US Mint website changed its claim in 2014 from the facility stored "gold and silver bullion", to a claim that Denver just stored "silver bullion".
Conclusion
This latest production shutdown by the US Mint also comes on the back of other recent production shutdowns and production scale-backs that have affected everything from the Royal Canadian Mint in Ottawa, to the world's largest gold refineries in Switzerland, and to South Africa's Rand Refinery, restricting further the already constrained bullion supply chain globally. While some of the Swiss refineries such as PAMP and Argor-Heraeus have restarted production, this is to a limited extent (see PAMP statement here and Argor-Heraeus statement here), and the physical bullion supply chain still remaining challenging.
As a reminder, all of this is happening in an environment of continued enormous demand for gold bullion coins and other physical precious metals, which has led to strong premiums on precious metals bars and coins above the spot prices that the London and New York bullion banks are generating through their relentless synthetic and derivative paper gold churning.