The only gold the US shows – A working vault at West Point
Every so often, US media coverage provides glimpses into the US Treasury's gold reserves stored with the US Mint. While this coverage never documents any of the claimed "deep storage" gold of the US Treasury, it contains just enough suggestion for the populace to connect the words 'gold storage' and 'US Government', and then return to their daily routines, assuming that the US has the largest strategic gold reserves in the world.
Notably, these media features, which span mainstream financial media and coin / numismatic news sites alike, are also only ever limited to one single location where the US Mint stores gold, a 'working vault' at the US Mint's facility in West Point, New York. Images of this vault will be familiar to some readers, images which contain various pallets of 400 oz gold bars in front of a US flag and the walls of the storage room strewn with many years of scribbled visitor signatures .
Such a media feature recently appeared on the WNYW network (Fox 5 New York) in April, when the Fox5NY crew took the trip about 2 hours north of Manhattan to the US Mint's bullion depository at West Point.
Along with its bullion depository in Fort Knox, Kentucky, and its minting facility in Denver, Colorado, the West Point Mint, located adjacent to West Point military Academy, is one of the three claimed Mint storage locations for the US Treasury's "deep storage" gold reserves, and according to the US Treasury, there are 11 storage compartments at West Point storing 54 million troy ounces, or 1682 tonnes, of United States Government owned gold reserves. Which would be just over 20% of the 8133 tonnes of gold that the US Treasury claims to hold.

The trouble is, despite numerous visits to the West Point bullion depository in recent years by numerous camera crews, photographers, reporters and journalists, there has never been any coverage of any of the 11 long-term gold storage compartments at West Point, nor any photos or videos of any of the 54 million ounces of gold that is claimed to be stored there. Merely repeated visits to this one 'working vault' in which a constantly changing working inventory of gold and silver bars used in the Mint's bullion coin minting are temporarily stored.
While the Fox5NY report is pitched as a visit to the "treasure belonging to the US Treasury", where "nearly a quarter of the U.S. government's gold sits beneath a windowless building on the campus at West Point", it was also to this working vault that the Fox5NY crew and its reporter Joe Toohey were led to by US Mint staff for the story published April 16.
"We've got approximately 54 million ounces here that we store, which is about 22% of the nation's gold," says Ellen McCollum, Superintendent of the West Point Mint, before the footage cuts to a graphic of the US Treasury's claimed inventory of deep storage gold across Fort Knox, West Point and Denver, followed by shots of gold bars and silver bars in the West Point production inventory working vault.
There is also no explanation in the Fox5NY report that they are in a working vault, and that the gold stored in that room is working stock production input for minting bullion coins, and nothing to do with the 54 million ounces of the US Treasury's claimed 'deep storage' gold.
According to Toohey's account, which is in the form of both a video and written report:
"FOX5NY was granted rare access – supervised of course – to one of their highly secure vaults. Officials had to cut a numbered seal to open it."
Straight off the bat, this reference to cutting a numbered seal seems strange, and whatever this seal was, it is not the same as the official joint seals that the US Treasury claims to put on its long-term storage compartments (see example here), and that are put there by a joint audit committee of Treasury and Mint officials who have audited United Stated Government owned gold. By definition, with gold and silver regularly moving in an out of this working vault storage area, the contents of this vault are not static and could not be subject to official joint seals of audit committee.
The shifting inventory in the working vault
That the contents of this working vault are not static can be observed in a number of ways. When Toohey and the Fox5NY crew visited the vault in April 2019, there were "2,600 bars of gold bullion" in the vault, with each bar "worth about $500,000", and "about $1.3 billion worth of gold".
When CoinNews.net's Darrin Lee Unser visited the same vault in July 2014, which he described as "the vault of working bullion", there were "3,592 gold bars on the day of our visit, July 22, each worth about $524,100 for a total value of almost $1.9 billion". These gold bars, said Unser, were "only passing through, purchased on the open market to make gold coins."
When CoinNews.net's Mike Unser visited the same working vault a year earlier on June 04, 2013 (for the West Point Mint's 75th anniversary media tour), there were "nearly 4,300 gold bars worth more than $2.3 billion", at a time when each bar "was worth almost $560,000".
Photographer Scott Eells for Bloomberg also visited this same working vault in early June 2013 (his photo captions say 5th June), and captured an interesting shot of a sign showing the exact gold contents of the vault on that day, which claimed that there were 4,281 gold bars, each weighting about 400 ozs and each valued at $558,600, for a total of 1,710,213.113 troy ozs. See image here.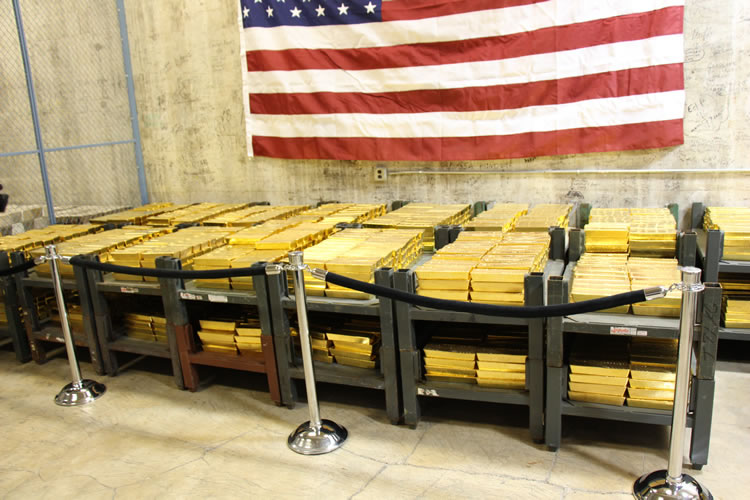 So over these three snapshot visits, the gold inventory in this working vault fluctuated (and happened to shrink) from 4281 gold bars in June 2013, to 3592 gold bars in July 2014, to 2600 gold bars in April 2019, in itself proof that the gold stored in this working vault is not static, and that the vault is not in any way long-term sealed under an official joint audit seal.
The same is also true of the silver in the West Point working vault. On the day of Darrin Lee Unser's visit in July 2014, there were 2,800 bars of 99.9% fine silver, each weighing 1000 ozs stored at the back of the vault (in a caged off area). When Mike Unser visited the vault in June 2013, he states that there were about 1,300,000 ozs of silver bars (each weighing 1000 ozs), A Scott Eells photo at that time clarifies this exactly, showing that there were about 1350 silver bars in the silver caged area, each weighing 1000 oz. So again, over a one year period, the silver bar inventory in this working vault fluctuated from about 1350 silver bars to 2800 silver bars, proof that the vault was in use, and not sealed under any type of long term audit seal.
Photos and Videos
With plenty of media visits to West Point's working vault, it's not surprisingly that it is well documented with many photos and a few videos. These photos and videos also show the shifting contents of the vault over time, with varying numbers of pallets of 400 oz gold bars, and rows of pallets.
The Scott Eells images for Bloomberg from June 2013 can be seen on the Getty website here. While numerous, they are mostly close ups of 400 oz gold bars.
The US Mint YouTube page hosts a short video (1:13 minutes) of the working vault here, showing the gold and silver bars. The Getty website also has a short video of this vault, filmed 6th June 2013 by Bloomberg. The video, which is 1:12 minutes and mostly pans over the gold bar pallets, can be played on a page at this link.
Another video of the working vault is also in the public domain, having been taken by 'Coin World' editor, Paul Gilkes. Gilkes visited the vault in early June 2013 at the same time as CoinNews but his video shows a completely different arrangement of the gold bar pallets to those of the June 2013 and July 014 visits, so is presumably was made on another occasion altogether. This video can be played at a page at this link. Gilkes video is notable in that it pans around to both sides of the vault and reveals that there are not one, but two, US flags adorning the vault walls, one on each side.
Perhaps the best photos of the West Point working vault are from the two CoinNews.net articles published in 2013, and 2014, which generously contain a large number of photos from inside the working vault. The 2014 CoinNews article also picks up on the point that the gold is stored on both side of the vault – with a photo captioned "More gold bars are layered at another side of the vault".
Without laboring the point, the various sets of photos and videos make it clear that on all the different visits to the working vault, there are different numbers of pallets of gold, the pallets are arranged in different positions, there are cordon ropes in some photos and not others, and there are different numbers of pallets of silver etc etc.
Yet another piece of proof that this 'working vault' sees a lot of visitors is the sheer number of graffiti like signatures spread across the walls on both sides of the vault. These signatures span many years of the recent past. For example, just looking at one photo (see below) shows dates of 1998, 2003, 2005 2009, 2010, and 2011, and that's just one small part of one wall. All of the walls are covered in these signatures and dates, hundreds of them.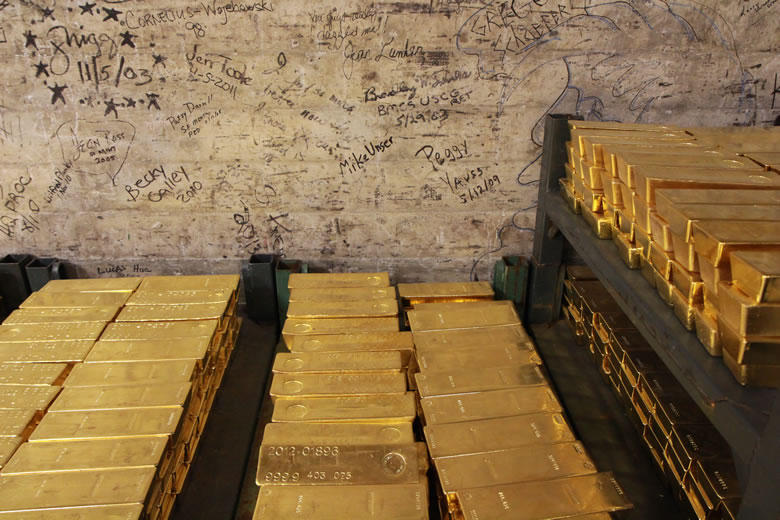 Conclusion
Apart from Mint facility held 'deep storage' gold and Federal Reserve stored gold, the US Treasury's gold report, full name "Status Report of U.S. Government Gold Reserve (Gold Report)", shows a line item titled "Mint-Held Treasury Gold – Working Stock" ascribed to "All locations – Coins, blanks, miscellaneous" and which shows a never changing  2,783,218.656 troy ounces, or 85.6 tonnes of gold.


This line item and this amount of 2.783 million ounces have literally been on the US Treasury gold report for many years, and presumably represent a liability that the Mint began to owe to the Treasury at some point in time. Given that the working stock constantly changes but this Treasury line item never changes, its debatable whether the Mint's working stock of gold falls under this line item.
Whatever the case, there are two distinct sets of bullion at West Point, one is  a relatively small amount of working stock for the production of bullion coins, the other the very large claimed amount of long term storage gold. One is held in a working vault, the other is claimed to be held across 11 deep storage compartments. It just so happens that the US Mint is tasked with two activities that are located in the same place. One is a production activity of the Mint – minting coins from gold and silver bars, the other is a storage activity, long-term storage of gold bars.
The constant references by the US Mint to 54 million ounces of gold held in storage for the US Treasury while showing the visiting media gold bars used in the bullion coin minting process – that are stored in a completely different room and are used to mint gold bullion coins – is a disingenuous and misleading exercise by the West Point Mint. On its periodic outings to the West Point facility, the visiting media could at least question why they are only ever shown a working vault housing gold bar inputs into the Mint's bullion coin programs, and not even the corridors and 11 compartment doors where the 54 million ounces of deep storage gold is claimed to be held.
There are already many doubts as to how much gold is housed at the Fort Knox gold bullion depository, and the same goes for the Mint's Denver facility which may not store any gold at all. By leading the media on a merry tour of the Mint's working vault at West Point while showing nothing of the facility's supposed  11 deep storage gold compartments, the US Mint and Treasury are doing themselves no favors in establishing their claim to be the greatest gold holder in the world.