LBMA Board Member & JP Morgan Managing Director Charged with Rigging Precious Metals
Michael Nowak, JP Morgan Chase managing director and head of the bank's global precious metals desk, who is also a Board member of the London Bullion Market Association (LBMA), has just been indicted and charged by the US Department of Justice (DoJ) with manipulating the prices of precious metals-futures contracts over an 8 year period.
Racketeering Conspiracy and other Federal Crimes
In the indictment unsealed 16 September 2019, the DoJ charged LBMA Board member and JP Morgan managing director Nowak, along with JP Morgan precious metals trader Gregg Smith and former JP Morgan precious metals trader Christopher Jordan for:
"alleged participation in a racketeering conspiracy and other federal crimes in connection with the manipulation of the markets for precious metals futures contracts, which spanned over eight years and involved thousands of unlawful trading sequences."
Commenting on the case, Department of Justice Assistant Attorney General Brian A. Benczkowski stated that:
"The defendants and others allegedly engaged in a massive, multiyear scheme to manipulate the market for precious metals futures contracts and defraud market participants."
"These charges should leave no doubt that the Department is committed to prosecuting those who undermine the investing public's trust in the integrity of our commodities markets."
FBI Investigation
The Department of Justice brought the case against LBMA Board member Nowak as a result of an ongoing investigation by the Federal Bureau of Investigation's (FBI) New York Field Office while the Commodity Futures Trading Commission's (CFTC) Division of Enforcement provided assistance in the case.
FBI Assistant Director in Charge William F. Sweeney Jr. of the FBI's New York Field Office commented that:
"Smith, Nowak, Jordan, and their co-conspirators allegedly engaged in a complex scheme to trade precious metals in a way that negatively affected the natural balance of supply-and-demand."
 "Not only did their alleged behavior affect the markets for precious metals, but also correlated markets and the clients of the bank they represented. For as long as we continue to see this type of illegal activity in the marketplace, we'll remain dedicated to investigating and bringing to justice those who perpetrate these crimes."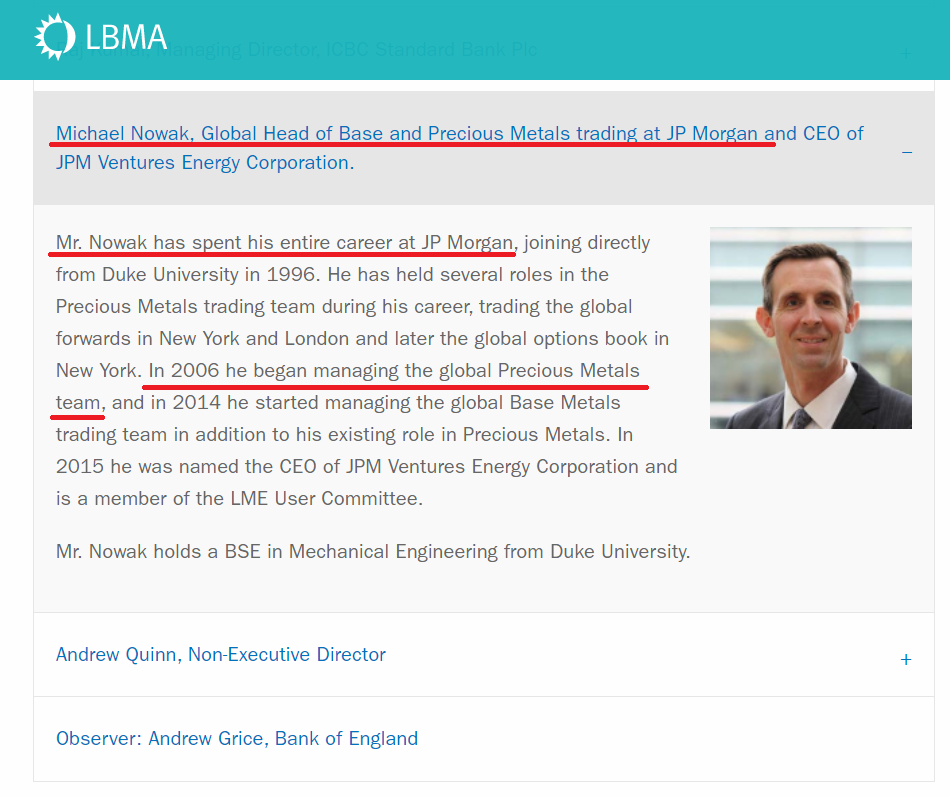 Widespread Spoofing, Market Manipulation and Fraud
The three precious metals traders have been charged in Chicago federal court in what the DoJ says was a scheme conducted by JP Morgan's precious-metals desks in New York, London and Singapore. According to the DoJ's press release, titled "Current and Former Precious Metals Traders Charged with Multi-Year Market Manipulation Racketeering Conspiracy", the DoJ indictment alleges that between approximately May 2008 and August 2016, the defendants and their co-conspirators were:
"members of an enterprise  – namely, the precious metals desk of [JP Morgan] – and conducted the affairs of the desk through a pattern of racketeering activity, specifically, wire fraud affecting a financial institution and bank fraud."
The DoJ went as far as charging each of Nowak, Jordan and Smith with one count of conspiracy under the Racketeer Influenced and Corrupt Organizations Act (RICO Act), and Act which was originally devised for taking down the mafia. The DoJ charges further state that the defendants, including Nowak:
"engaged in widespread spoofing, market manipulation and fraud while working on the precious metals desk" at JP Morgan "through the placement of orders they intended to cancel before execution (Deceptive Orders) in an effort to create liquidity and drive prices toward orders they wanted to execute on the opposite side of the market. In thousands of sequences, the defendants and their co-conspirators allegedly placed Deceptive Orders for gold, silver, platinum and palladium futures contracts traded on the New York Mercantile Exchange Inc. (NYMEX) and Commodity Exchange Inc. (COMEX), which are commodities exchanges operated by CME Group Inc."
These deceptive orders, says the DoJ intended to:
"inject false and misleading information about the genuine supply and demand for precious metals futures contracts into the markets, and to deceive other participants in those markets into believing something untrue, namely that the visible order book accurately reflected market-based forces of supply and demand."
Michael Nowak – LBMA Board Member
The DoJ charges against Nowak following the DoJ – FBI and CFTC investigation now mean that a Board member of the London Bullion Market Association (LBMA), a board which sits at the very top of the LBMA's governance structure, has now been charged by US federal prosecutors with participating in a multiyear racketeering conspiracy to manipulate precious metals markets and defraud customers.
For those not familiar with the LBMA, the LBMA  in the word's of its CEO Ruth Crowell, "claims to be the world's authority on precious metals" and "the standard setting organization that defines how precious metals are refined as well as traded around the world".
Crowell states that it's the LBMA's job is "to ensure the quality and integrity of the metal itself as well as the market participants" while there are also market elected directors on the LBMA Board such as Michael Nowak "who sit on the Board and ensure that the market is steering the development of the Association".
According to the LBMA website, the LBMA Board brings "independence" and "decision making capability" as well as "promotes and evidences LBMA's core values of leadership, trust and integrity".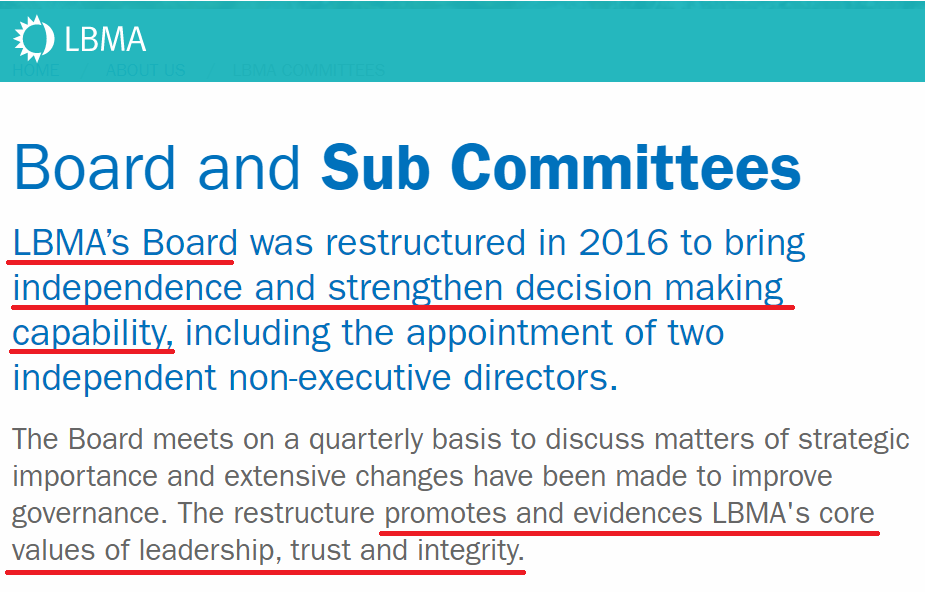 In addition to JP Morgan's Michael Nowak, other members of the LBMA Board include chairman of the Board, Paul Fisher, who was previously at the Bank of England, Ruth Crowell, the LBMA CEO, and Sakhila Mirza, the General Counsel of the LBMA, as well as Andrew Quinn, a non-executive board director. The Bank of England also has an 'observer' on the LBMA Board in the shape of Andrew Grice.
The DoJ's move against LBMA Board member Michael Nowak will now put pressure on the LBMA to explain the LBMA governance claim that it "promotes good trading practices and sets objective criteria for institutions wishing to enter the market as traders and as custodians", when one of its board members has now been charged by US federal prosecutors with rigging precious metals markets, prosecutors who allege that Nowak and his co-defendants were engaged in a "massive, multiyear scheme to manipulate the market for precious metals futures contracts and defraud market participants."
Global Precious Metals Code
Likewise, how does this latest indictment against JP Morgan by the DoJ not breach the LBMA's self-processed "Global Precious Metals Code" which all of its members are attest to their conformance with the Code by signing a Statement of Commitment. In the words of LBMA CEO Rutch Crowell:
"The Global Precious Metals Code is a code of conduct which promotes a fair effective and transparent market. It provides market participants with Principles and Guidance to uphold high standards of business conduct. All of this creates confidence in the market for all participants."
JP Morgan Chase is widely represented in the membership of the London Bullion Market Association with three JP Morgan Chase entities being members of the Association, JP Morgan Chase Bank as a market making member, and JP Morgan AG and JP Morgan Securities Plc as full LBMA members. All three of these JP Morgan Chase entities have signed the Statement of Commitment attesting they they are in conformance with the Precious Metals Code of Conduct, which can be seen here.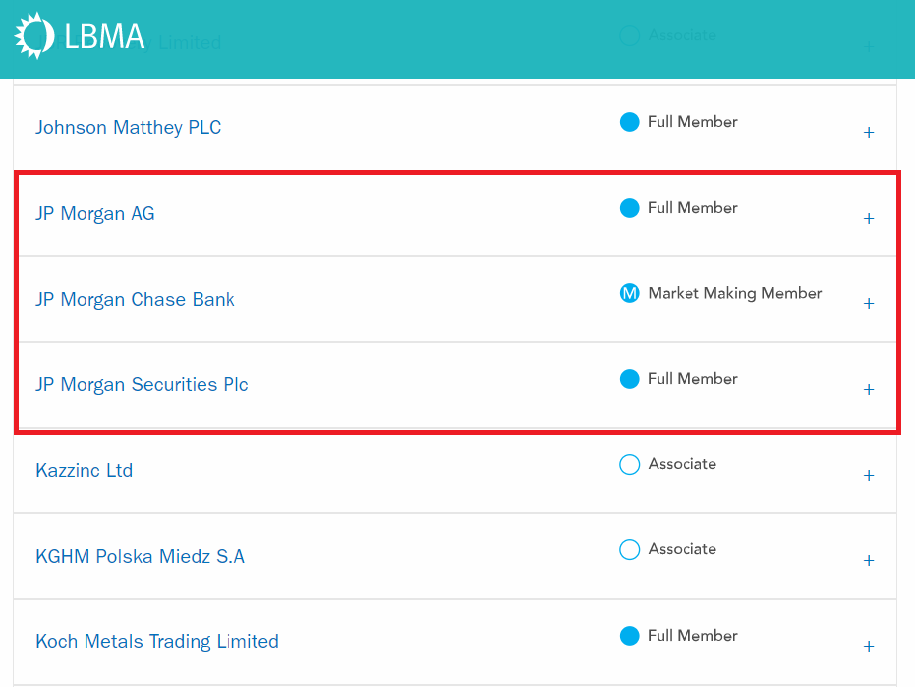 According to the LBMA Global Precious Metals Code, it is:
"intended to promote a robust, fair, effective and appropriately transparent market in which diverse groups of Market Participants, supported by resilient infrastructure, are able to confidently and effectively transact at competitive prices that reflect available market information and in a manner that conforms to acceptable standards of behavior."
The Code goes into great depth on prohibiting LBMA members from engaging in any type of price manipulation, for example Principle 8 states that:
"Market Participants should not request transactions, create orders or provide prices with the intent of disrupting market functioning or hindering the price discovery process."
And more specifically, according to section 5.8.1 of the Code:
"Market Participants should not engage in trading strategies or quote prices with the intent of hindering market functioning or compromising market integrity. Such strategies include those that may cause undue latency, artificial price movements or delays in other Market Participants' transactions, and result in a false impression of market price, depth or liquidity.
Such strategies also include collusive and/or manipulative practices, including but not limited to those in which a trader enters a bid or offer with the intent to cancel before execution (sometimes referred to as "spoofing", "flashing" or "layering") and other practices that create a false sense of market price, depth or liquidity (sometimes referred to as "quote stuffing" or "wash trades").
So how does the LBMA explain that one of its Board of Directors has been charged in US Federal Courts of these very practices, using the RICO Act, an act that was created to take down mafia mobsters? And that Michael Nowak, LBMA Board member will now make his initial appearances in the District of New Jersey before U.S. Magistrate Judge Michael A. Hammer?
As well as being an LBMA Board member, Michael Nowak is also on the 'User Committee' of the London Metal Exchange (LME), after Nowak took over both positions from JP Morgan's Mr. Sid Tipples, so the LME will have some explaining to do on this also.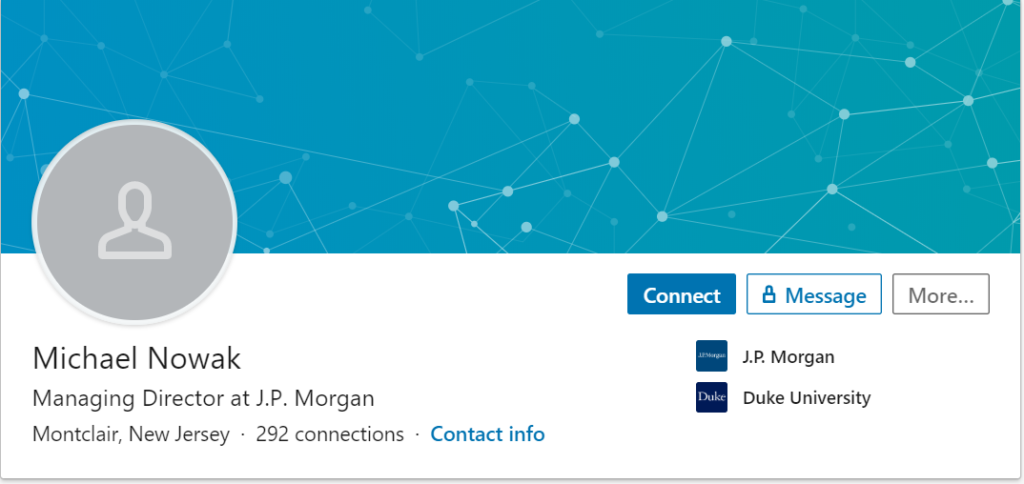 Conclusion
The ball is now in the LBMA's court. Will the LBMA do the decent thing and explain to the global gold market how one its Board of Directors is now accused of a 'racketeering' conspiracy and other federal crimes in connection with the manipulation of the precious metals markets (gold, silver, platinum and palladium) spanning more than eight years and involving thousands of unlawful trading sequences?
Will the LBMA remove Nowak from its Board of Directors? Will the LBMA reprimand or expel JP Morgan from its membership list? Or will the LBMA try to cover this up by deleting the offending pages from its website? The LBMA Board member page as of today has been saved here.
By supporting a fraudulent market structure, by protecting its member bullion banks and by fighting against transparency, the LBMA is doing nothing to disprove that it is not central to the giant paper gold and silver markets, the biggest financial crime in the history of the world.
Somehow managing to implant itself as the self-appointed referee to the physical gold market, this latest scandal is further evidence and ammunition that the LBMA and its bullion bank members cannot be anything but working against the physical market with full force, that LBMA is the proverbial fox in the hen house, and that the LBMA is an integral part of the scheme to keep the price of gold subdued.