Valcambi Gold CombiBar - 50 x 1 g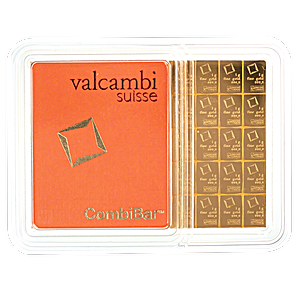 Roll over image to zoom in
Valcambi Gold CombiBar - 50 x 1 g
Limited Time Offer
Regular Price
IN STOCK: 46 bars
Great Premium:
Divisible into 50 separate 1 gram gold bars.
Product Highlights
Country: Switzerland
Manufacturer: Valcambi
Size: 74 mm x 52.5 mm x 0.85 mm
Purity: .9999
Weight: 50 gram (1.608 troy oz)
Tax Status: No Tax/No GST
Product Information:
The 50 gram Gold CombiBar from Swiss refiner Valcambi is a unique investment gold bar that can be divided into 50 x 1 gram gold bars. Valcambi is the largest gold refiner in Switzerland, and its gold bullion products are highly respected throughout the world for their Swiss craftsmanship and guarantee of quality.
Launched in 2011, the innovative design of the Gold CombiBar comprises a 10 x 5 rectangle of 1 gram gold bars of 9999 fineness, presented in a secure translucent casing which also contains the gold bar's assay certificate displaying the bar's unique serial number. The Gold CombiBar weighs 50 grams (or 1.60775 fine troy ounces), and its dimensions are 74 mm x 52.5 mm x 0.85 mm. Gold CombiBars are therefore ultra-portable since they are a similar size and width to a credit card, and in fact a 50 gram gold CombiBar can fit in a wallet, just like a credit card.
The genius of the CombiBar design is that each constituent miniature gold bar is attached to one or more adjacent bars, held together by grooves within the larger gold bar. These grooves are strong enough to keep the gold bar intact, but flexible enough to allow each individual small gold bar to be detached. The individual 1 gram gold bars can then be sold, exchanged, gifted, or used in transactions, and provides the owner with ultimate flexibility no matter what the gold price.
Each of the 50 gold bar segments is individually stamped with the Valcambi logo design, and inscribed with "1g fine gold 999,9" and Valcambi's "Essayeur Fondeur" stamp of authenticity. So when detached, each gold bar still retains Valcambi's hallmark of trust.
Because the CombiBar's design is patented, the Gold CombiBar is the only gold bullion bar on the market with this unique construction, and is a unique way to buy and sell gold.
Contact Us Regarding This Product
Customers who viewed this item also bought