Gulidov Krasnoyarsk Platinum Bar - 158.480 oz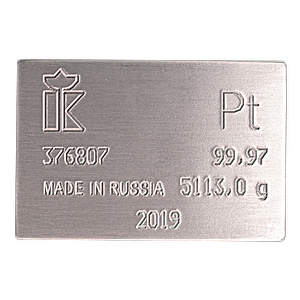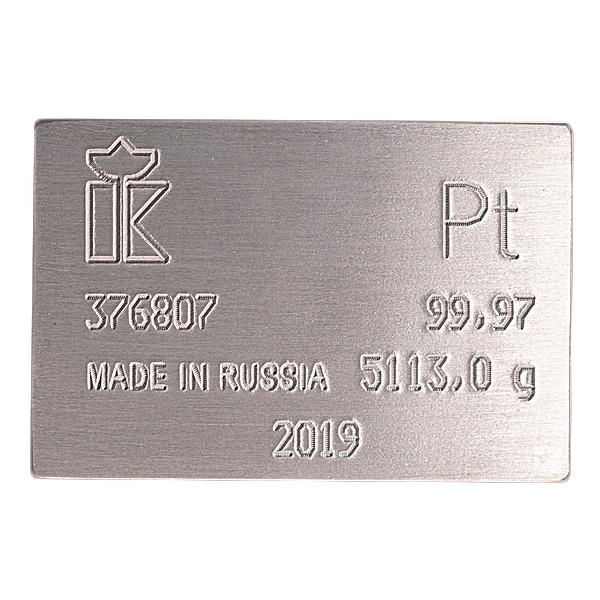 Roll over image to zoom in
Gulidov Krasnoyarsk Platinum Bar - 158.480 oz
Limited Time Offer
Regular Price
IN STOCK: 1 bar
Great Premium:
Product Highlights
Country: Russia
Manufacturer: The Gulidov Krasnoyarsk Non-Ferrous Metals Plant
Purity: .9995
Weight: 158.48 troy oz (4.929 kg)
Tax Status: No Tax/No GST
Product Information:
This 158.480 oz (4.929 kg) platinum bar from Russian refiner Krastsvetmet has a platinum purity of 99.95%.
JSC Krastsvetmet, which is officially known as the Gulidov Krasnoyarsk Non-Ferrous Metals Plant, is the Russian Federation's largest platinum and gold refinery.
The front of the platinum bar is inscribed with the refinery logo, the bar's weight and platinum purity, the year of manufacture, a unique serial number, and the symbol Pt. The inscription also has the words "MADE IN RUSSIA".
The Krastsvetmet refinery is part of the London Platinum and Palladium Market (LPPM) Good Delivery List for Platinum, which is a list of platinum refineries around the world which meet the LPPM's strict standards for refinery production.
Krastsvetmet is located in Krasnoyarsk in the Krasnoyarsk Krai region of Siberia, central Russia. Krasnoyarsk is Siberia's second largest city.
As an LPPM accredited refinery, this Krastsvetmet platinum bar is exempt from Goods and Services Tax (GST) when bought and sold in Singapore.
Contact Us Regarding This Product
Customers who viewed this item also bought