Argor-Heraeus Gold Bar - 1 oz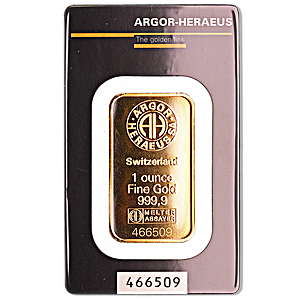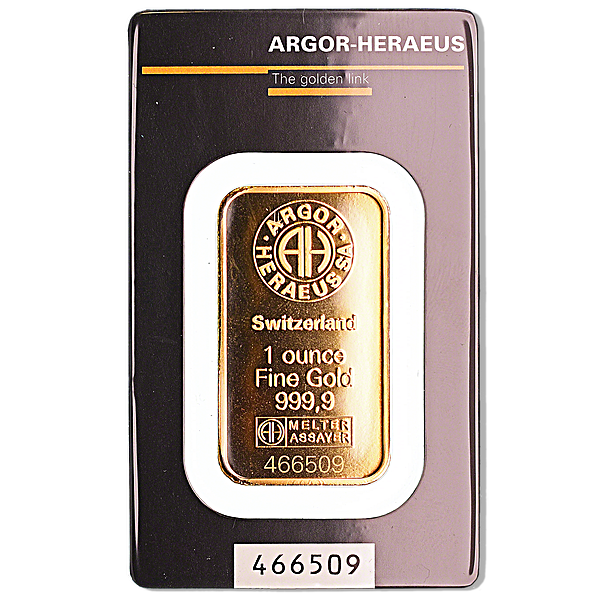 Roll over image to zoom in
Argor-Heraeus Gold Bar - 1 oz
Limited Time Offer
Regular Price
IN STOCK: 106 bars
Great Premium:
These 1 oz gold bullion bars from the renowned Swiss refiner Argor-Heraeus will make a fine addition to your precious metals portfolio.
Product Highlights
Country: Switzerland
Manufacturer: Argor-Heraeus SA
Size: 41 mm x 24 mm x 2 mm
Purity: .9999
Weight: 1 troy oz (31.1 gram)
Tax Status: No Tax/No GST
Product Information:
This handsome 1 oz minted gold bar has a gold purity of 99.99% and is fabricated by Argor-Heraeus, one of Switzerland's most prestigious precious metals refiners. Argor-Heraeus is headquartered in Mendrisio in the Swiss Canton of Ticino, beside the Italian border.
The front of the 1 oz gold bar is embossed with the famous Argor-Heraeus refinery stamp which consists of an 'AH' motif encircled by the words 'ARGOR HERAEUS SA', The front surface also contains the refinery location 'Switzerland', the bar's weight and fine gold content, '1 ounce Fine Gold 999.9', and the bar's unique serial number and Assay stamp.
Each 1 oz minted gold bar has a rectangular design, curved edges and a highly polished finish. The 1 oz gold bar measures 40.4 mm x 23.3 mm, with a depth of 1.8 mm.
Each 1 oz minted gold bar also comes presented in its own PET transparent tamper-proof blister pack which doubles as the bar's assay card.
Argor-Heraeus is one of the most prestigious precious metals refiners in the world and is listed on the London Bullion Market Association's (LBMA) Good Delivery List for gold. which is the international standard for gold refiners.
Contact Us Regarding This Product
Customers who viewed this item also bought