French Gold 20 Franc - Various Years - 5.81 g gold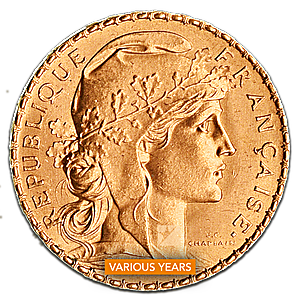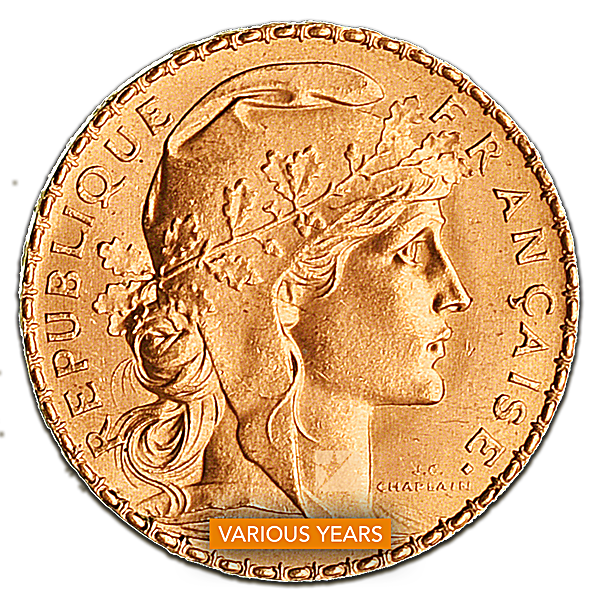 Roll over image to zoom in
French Gold 20 Franc - Various Years - 5.81 g gold
Limited Time Offer
Regular Price
IN STOCK: 24 coins
Great Premium:
Product Highlights
Country: France
Diameter: 21 mm
Thickness: 1.4 mm
Purity: .900
Weight: 5.806 gram (0.187 troy oz)
Tax Status: Gross Margin Scheme
Product Information:
The French Gold 20 franc coin is an historic French gold coin minted by Paris Mint (Monnaie de Paris) in France in the nineteenth and early twentieth century.
Weighing 5.806 grams or 0.187 troy ounces, each historical 20 French Franc coin has a a gold purity of 90%.
While these 20 Franc coins had various designs over the years, they included the one depicted in the images here, which has a Rooster on the reverse side and the head of Marianne - Goddess of Liberty on the obverse.
Note that depending on year of issue, the 20 Franc gold coins designs will differ, and depending on stock, the coin purchased might be different from the depicted imagery.
Contact Us Regarding This Product
Customers who viewed this item also bought