Johnson Matthey Silver Bar - Pressed - Serial Numbered - 100 oz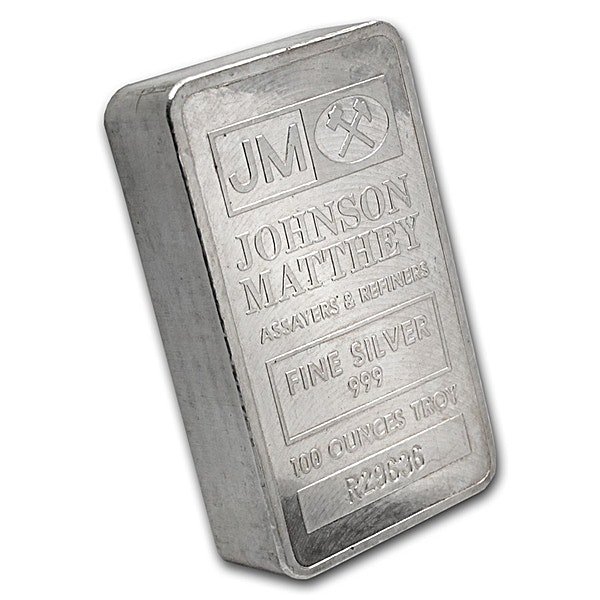 Roll over image to zoom in
Johnson Matthey Silver Bar - Pressed - Serial Numbered - 100 oz
Limited Time Offer
Regular Price
OUT OF STOCK
Great Premium:
Product Highlights
Country: Canada
Manufacturer: Johnson Matthey
Purity: .999
Fine Weight: 100 troy oz (3.11 kg)
Tax Status: No Tax/No GST
Product Information:
Johnson Matthey, founded in London in 1861, is one of the world's oldest and most famous precious metals refiners. At one time, Johnson Matthey operated one of the biggest precious metals refining groups in the world, with operations in the UK, US and Canada.
The Johnson Matthey 100 oz pressed silver bar is a high lustre silver bar containing 99.9% pure silver. These pressed bars, produced in Canada in the 1980's, have a very distinctive high quality finish with multiple markings and lettering on the front face, and are quite rare on the market.
The front of each 100 oz pressed silver bar features Johnson Matthey's rectangular refinery stamp featuring the JM initials and crossed hammers, above the lettering 'JOHNSON MATTHEY', 'ASSAYERS & REFINERS', 'FINE SILVER' '999', "100 OUNCES TROY" and at the bottom of the front face, the bar's unique 6-digit serial number. On the rear of the bar is a diagonally recurring pattern of the refinery's rectangular JM and crossed hammers logo.
In 2015, Johnson Matthey's gold and silver refining operations in the US and Canada was acquired by the Japanese group Asahi Holdings, meaning that Johnson Matthey silver bars are no longer produced, which adds an extra cachet of collectability to Johnson Matthey silver bars.
Contact Us Regarding This Product
Customers who viewed this item also bought