Heraeus Gold Bar - MultiDisc - 10x1 g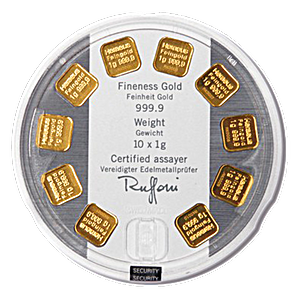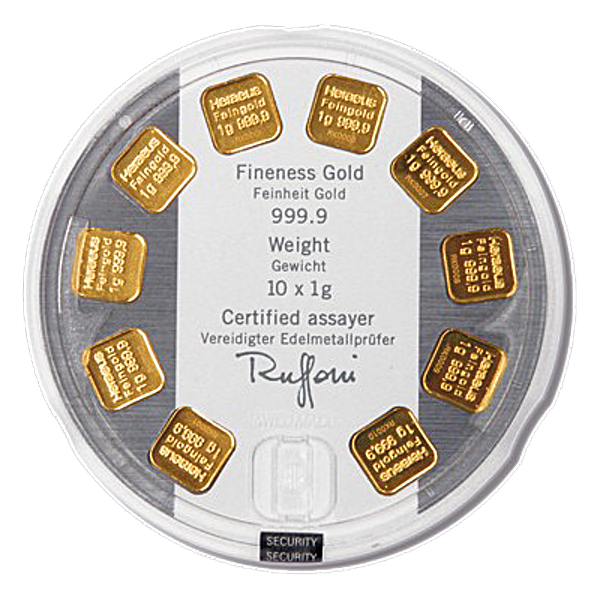 Heraeus Gold Bar - MultiDisc - 10x1 g
Limited Time Offer
Regular Price
OUT OF STOCK
Great Premium:
Product Highlights
Country: Germany
Manufacturer: Heraeus
Size: 10 mm x 10 mm x 0.6 mm
Purity: .9999
Weight: 10 gram (0.322 troy oz)
Tax Status: No Tax/No GST
Product Information:
The Heraeus 10 gram Gold Bar MultiDisc is a stylish and rotatable storage and display gold disc containing 10 individually minted 1 gram gold bars of 9999 fineness within a circular enclosure. The MultiDisc gold bar comes from Germany's most famous gold refinery, Heraeus, located in Hanau, and is an innovative way to buy gold in small denominations. As the gold disc is made from strong transparent plastic, both sides of the enclosed gold bars are clearly visible at all times.
Each of the 1 gram gold bars are inscribed with an individual serial number and stamped with the gold bar's weight, fineness and the refiner's brand "Heraeus Edelmetalle Hanau", together with the famous Heraeus "hand with roses" motif.
Each MutiDisc comes secured with a tamper proof security seal and clasp, which, when opened, allow the individual 1 gram gold bars to be rotated to an access window, and conveniently removed and also replaced. Each MultiDisc also doubles as an assay certificate, stating the weight and fineness of the gold bars, and is inscribed with a certified Assayer's signature, a guarantee of the gold product's authenticity.
About the size of a drinks' coaster, the Heraeus 10 Gram Gold Bar MultiDisc is ultra-portable, and the ultimate gold bar dispenser for gold gifting or buying small gold bars whatever the gold price.
Contact Us Regarding This Product
Customers who viewed this item also bought