Valcambi Gold Bar - 100 g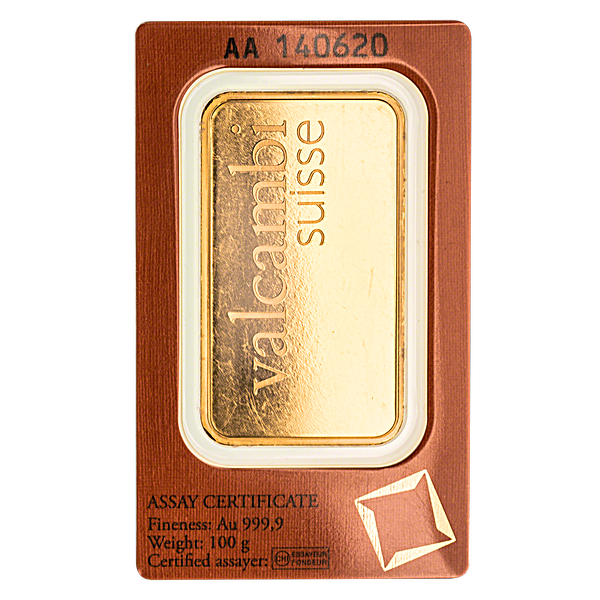 Roll over image to zoom in
Valcambi Gold Bar - 100 g
Limited Time Offer
Regular Price
IN STOCK: 3 bars
Great Premium:
Product Highlights
Country: Switzerland
Manufacturer: Valcambi
Size: 27 mm x 47 mm x 4.50 mm
Purity: .9999
Weight: 100 gram (3.215 troy oz)
Tax Status: No Tax/No GST
Product Information:
Produced by one of Switzerland's best-known gold refineries, this minted gold bar from Valcambi has a highly polished finish and rounded corners. Minted from 99.99% pure gold, this Valcambi gold bar weighs 100 grams or 3.215 troy ounces.
The front of the 100 g minted gold bar displays Valcambi's refinery logo, a diamond comprising four scalene triangles, along with the bar's gold purity 999,9 fine gold, and a unique serial number. The reverse of the 100 g gold bar displays the words Valcambi Suisse in large lettering running vertically.
Each 100 g minted gold bar is presented in a secure and tamper-proof blister pack, in Valcambi's new orange design coloring. The back of the secure packaging also doubles as the bar's assay certificate and shows the signature of valcambi's certified assayer and the bar's unique serial number.
Located in Balerna in the Swiss canton of Ticino, Valcambi is one of Switzerland's largest gold refineries, famous for its high-quality investment gold bar products. As investment gold, the Valcambi 100 g gold bar is exempt from Singapore's Goods and Services Tax (GST).
Trusted the world over, Valcambi is listed on the London Bullion Market Association's (LBMA) Good Delivery List for Gold, and is one of the world's most prestigious gold refiners.
Contact Us Regarding This Product
Customers who viewed this item also bought