Heraeus Gold Bar - 50 g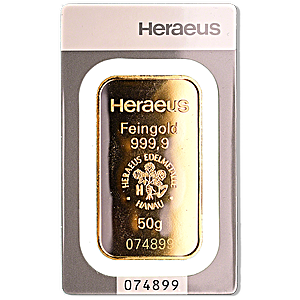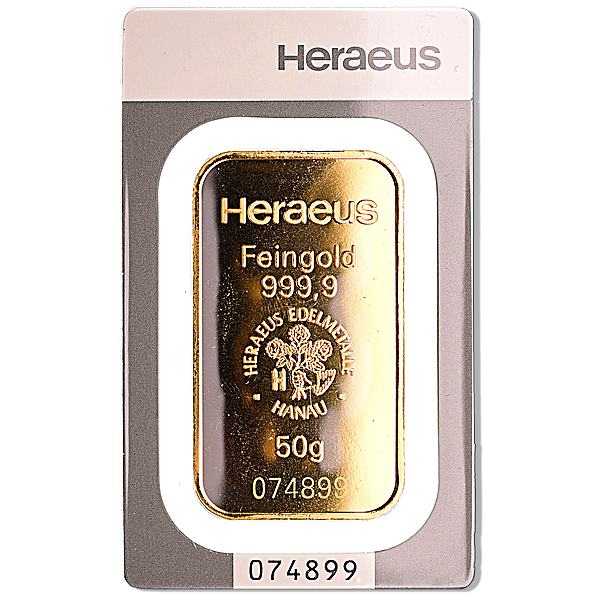 Roll over image to zoom in
Heraeus Gold Bar - 50 g
Limited Time Offer
Regular Price
OUT OF STOCK
Great Premium:
Product Highlights
Country: Germany
Manufacturer: Heraeus
Size: 50 mm x 28.5 mm x 2.35 mm
Purity: .9999
Weight: 50 gram (1.608 troy oz)
Tax Status: No Tax/No GST
Product Information:
The Heraeus 50 gram minted gold bar is a highly-finished 99.99% pure investment grade gold bar from the Heraeus precious metals refinery in Hanau, Germany.
The obverse of each bar is impressed with the bar's weight 50g, the bar's gold fineness 99.99, as the famous Heraeus refinery insignia of a hand clasping roses. The insignia also includes a H which signifies the historic origins of the refinery in Hanau in Germany.
The 50 gram Heraeus minted gold bar is 50 mms in length, 28.5 mms in width, and has a depth of 2.35 mms.
All Heraeus minted gold bars are produced using the extrusion production technique, and every minted bar is presented in its own secure laminated display pack, the reverse of which doubles as an assay card. Every Heraeus minted gold bar has its own unique 6 digit numeric serial number.
In addition to refining, the Heraeus Precious Metals division also operates 4 trading desks worldwide in Germany, the USA, China, and Hong Kong, which trade gold, silver, and platinum group metals for a variety of industrial and financial clients around the world.
Contact Us Regarding This Product
Customers who viewed this item also bought