Argor-Heraeus Gold KineBar - 1 g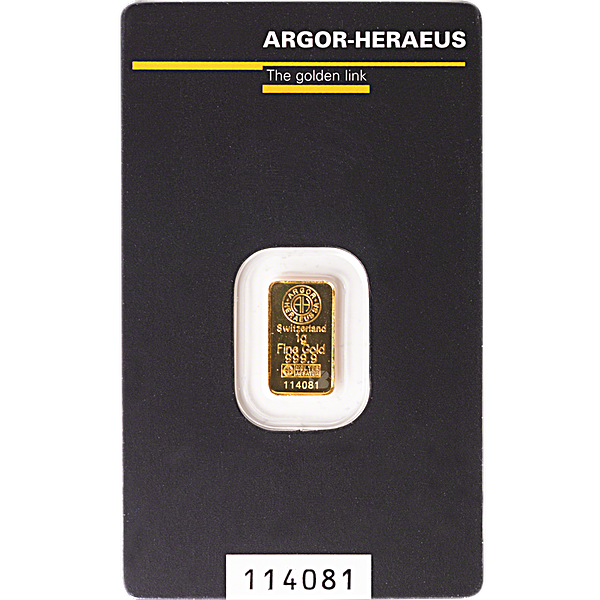 Roll over image to zoom in
Argor-Heraeus Gold KineBar - 1 g
Limited Time Offer
Regular Price
PRE-SALE (31-03-2021)
Great Premium:
Product Highlights
Country: Switzerland
Manufacturer: Argor Heraeus S.A
Size: 15.0 mm x 8.7 mm x 0.5 mm
Purity: .9999
Weight: 1 gram (0.032 troy oz)
Tax Status: No Tax/No GST
Product Information:
This 1 gram minted gold Kinebar has a gold purity of 99.99% and is fabricated by the famous Swiss gold refiner Argor-Heraeus at its gold refinery in the Swiss canton of Ticino.
The Kinebar contains a kinegram as added proof of authenticity. Besides the added security of authentication, the kinegram also boosts the gold bar aesthetically by improving the visual appeal for it.
The front of the 1g gold bar is embossed with the Argor Heraeus refiner stamp AH, the words 'Switzerland', and the bar's weight and fine gold content.
Each 1g bar also has a unique serial number engraved on the front of the bar. This serial number is also recorded on the front of the bar's presentation card.
As a small investment gold bar, the Argor-Heraeus 1 gram minted gold bar is ideal for beginning to save in physical gold and is also ideal for gift giving.
Argor-Heraeus has a long and prestigious history and at one time was owned by Union Bank of Switzerland (UBS). The refinery is now fully owned by the prestigious German-based Heraeus precious metals group.
Contact Us Regarding This Product
Customers who viewed this item also bought