100 Gram Argor-Heraeus Swiss Gold Bullion Bar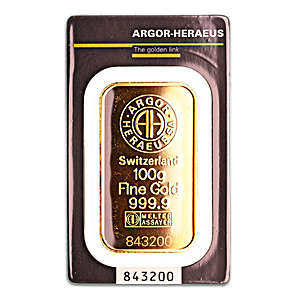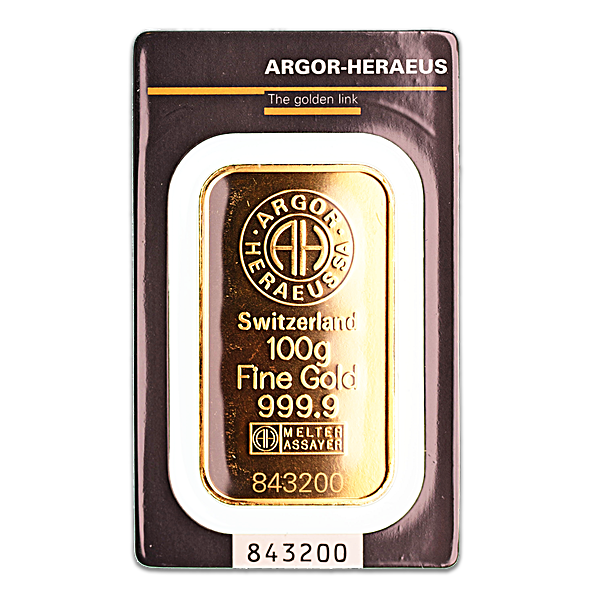 Roll over image to zoom in
100 Gram Argor-Heraeus Swiss Gold Bullion Bar
Limited Time Offer
Regular Price
IN STOCK: 118 bars
Great Premium:
These classy 100 gram gold bullion bars have low premiums and spreads, which means that you get more gold for your money with them.
Product Highlights
Country: Switzerland
Manufacturer: Argor-Heraeus SA
Size: 50 mm x 28 mm x 4 mm
Purity: .9999
Weight: 100 gram (3.215 troy oz)
Tax Status: No Tax/No GST
Product Information:
The 100 gram minted gold bar from Argor-Heraeus is a 99.99% purity gold bar with a high-lustre finish and rounded edges. Argor-Heraeus is one of the premier gold refineries in the world and is now fully-owned by German precious metals refinery Heraeus.
The front surface of the 100 gram minted gold bar is imprinted with the Argor-Heraeus refinery stamp of the letters 'AH' encircled by the words 'ARGOR HERAEUS SA', The front face also records the refinery location 'Switzerland' and the bar's weight and fine gold content, '100g Fine Gold 999.9'.
Each bar also has a unique serial number inscribed on the front surface.
The 100 gram minted gold bar comes presented in a transparent tamper-proof blister pack which doubles as the bar's assay card. The reverse of this presentation pack also displays the bar's weight and fine gold content, along with the signature of the Argor-Heraeus certified assayeur.
The Argor-Heraeus gold refinery is located in the Swiss Canton of Ticino, close to the Italian border. Ticino is sometimes referred to as the 'Golden Triangle' of Swiss gold refining, since in addition to Argor-Heraeus, it is also home to two other major gold refineries, PAMP, and Valcambi.
Contact Us Regarding This Product
Customers who viewed this item also bought