Argor-Heraeus Gold Cast Bar - 100 g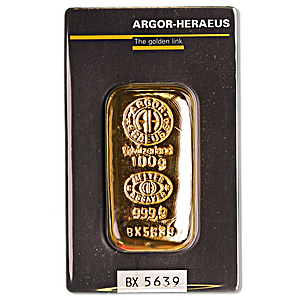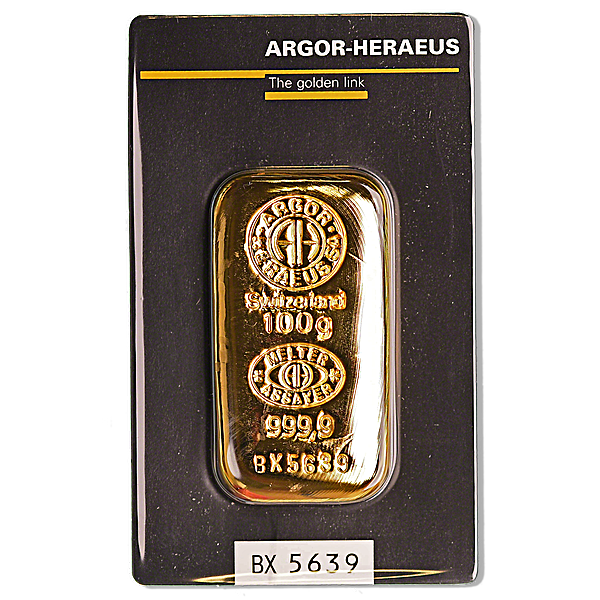 Roll over image to zoom in
Argor-Heraeus Gold Cast Bar - 100 g
Limited Time Offer
Regular Price
IN STOCK: 74 bars
Great Premium:
Low premiums on this product!
Product Highlights
Country: Switzerland
Manufacturer: Argor-Heraeus SA
Size: 45 mm x 24 mm x 5.5 mm
Purity: .9999
Weight: 100 gram (3.215 troy oz)
Tax Status: No Tax/No GST
Product Information:
This sturdy 100 gram cast gold bar is a 99.99% pure gold bar from Argor-Heraeus, one of the world's leading gold refineries. Argor-Heraeus is headquartered in the Swiss canton of Ticino and has a long history as a trusted and well-known gold bullion brand.
Known by Argor-Heraeus as a classic molten gold bar, the front of the 100 gram cast gold bar is stamped with the Argor-Heraeus refinery bar mark, the words 'Argor-Heraeus SA encircling around the letters AH' and the bar's weight '100g' and gold purity '999.9'. Each bar is also imprinted with the Argor Heraeus assay mark 'AH melter assayer' and each bar displays a unique serial number.
The 100 gram cast gold bar (3.215 troy ounces) is rectangular in shape with dimensions 45 mm x 24 mm x 5.5 mm, and comes presented in a PET transparent tamper-proof blister pack which doubles as the bar's assay card.
Argor-Heraeus is now the part of Heraeus Precious Metals (HPM) after it was fully acquired by the German precious metals group Heraeus in 2017. Argor-Heraeus has a customer base from over 50 countries, including mining companies, bullion banks, central banks, mints, jewellery and watch companies and industrial consumers.
For investors and savers looking for an affordable entry point for gold bullion investing, the 100 gram Argor-Heraeus cast gold bar makes a great choice as its portable, easy to store, and attractive in appearance, and has a liquid selling market as its recognized the world over in the gold bullion sector.

Contact Us Regarding This Product
Customers who viewed this item also bought