Registration BullionStar's 3rd Year Anniversary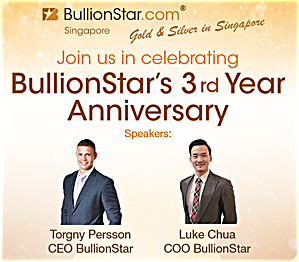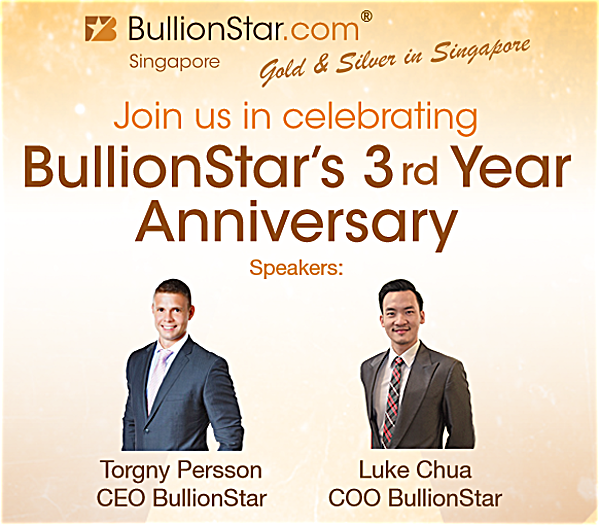 Registration BullionStar's 3rd Year Anniversary
Limited Time Offer
Regular Price
OUT OF STOCK
Great Premium:
Product Highlights
Tax Status: Normal GST
Product Information:
Speeches by Torgny Persson & Luke Chua!
When:
7 pm - 9 pm, Wednesday 16 September, 2015
Program:
- Speech by Torgny Persson, CEO BullionStar:
Gold Trends & The New Gold Rush
- Speech by Luke Chua, COO BullionStar:
The Key to Understanding Gold & Silver Prices
- Q & A with Torgny and Luke
- Mingle with Torgny, Luke and other BullionStar staff members
- Prize presentation for Video Award Winners
Where:
BullionStar's bullion retail shop at 45 New Bridge Road
Enjoy light cocktails and canapés
Registration Fee: SGD 49
Please note that tickets are limited. First ordered, first served.
Please note that this is a standing event.
3 Year Anniversary Promotion:
American Silver Eagles (Various Years) for spot + USD 2.99 (~ SGD 4.19)!
Promotion only available for registered attendees at the 3 year anniversary. Price valid regardless of quantity bought (up to a maximum of 1,000 pieces per customer for tickets bought before 12pm GMT +8, 10th Sep 2015 and up to maximum of 200 pieces per customer for tickets bought after 12pm GMT +8, 10th Sep 2015). Offer valid while stocks last.
Contact Us Regarding This Product
Customers who viewed this item also bought