10 oz Royal Canadian Mint Silver Bullion Bar (Pre-Owned in Good Condition)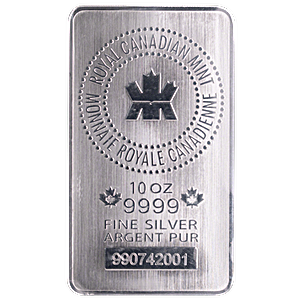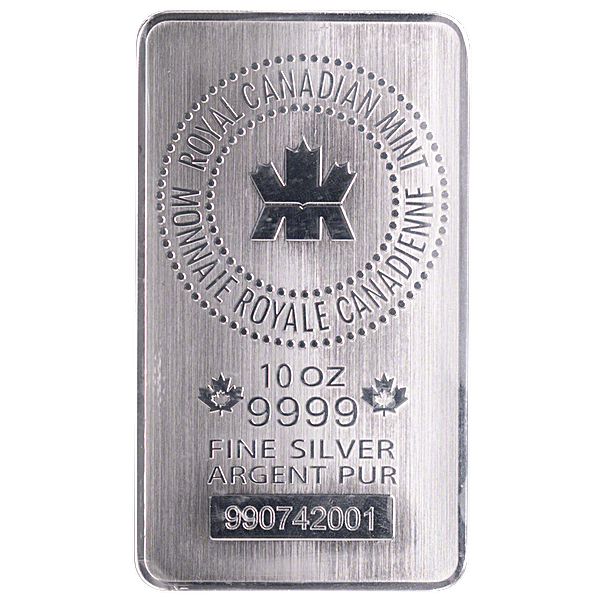 Roll over image to zoom in
10 oz Royal Canadian Mint Silver Bullion Bar (Pre-Owned in Good Condition)
Limited Time Offer
Regular Price
IN STOCK: 71 bars
Great Premium:
Enhance your precious metals portfolio with these gleaming 10 oz silver bullion bars from the Royal Canadian Mint.
Product Highlights
Country: Canada
Manufacturer: Royal Canadian Mint
Diameter: 90 mm x 52 mm x 7 mm
Purity: .9999
Weight: 10 troy oz (311 gram)
Tax Status: No Tax/No GST
Product Information:
The Royal Canadian Mint (RCM) 10 oz silver bar is a minted silver bar from one of the world's best known mints and refineries, the same mint that produces the famous Canadian Silver Maple Leaf coins. Each RCM 10 oz silver bar contains a minimum of 99.99% pure silver, and weighs 10 oz or 311 grams.
The RCM, located in Ottawa, is fully-owned by the Canadian Government, and the mint's refinery is accredited to the London Bullion Market Association (LBMA) Good Delivery List for silver. This Good Delivery List is the international standard for silver refiners. Buyers can therefore be confident of the 10 oz RCM silver bar's authenticity and high quality production standards.
These RCM silver bars are circulated in good condition, which means that they may or may not be in packaging and the condition of the bars differ from the image shown.
The front of the 10 oz silver bar features the RCM's circular refinery logo of a Canadian maple leaf symbol surrounded by 'ROYAL CANADIAN MINT' and "MONNAIE ROYALE CANADIENNE' signifying Canada's two official languages, English and French.
Below the RCM refinery stamp, the weight of each bar, '10 oz' is embossed, together with the bar's silver purity '9999', 2 smaller stylised maple leaf motifs, and the words 'FINE SILVER ARGENT PUR' in English and in French. Each bar is also inscribed with its own unique 9-digit serial number. The reverse of the 10 oz minted bar features a recurring horizontal maple leaf pattern.
Contact Us Regarding This Product
Customers who viewed this item also bought