Australian Platinum Chinese Myths and Legends 2022 - Dragon - Reserve Proof - 1 oz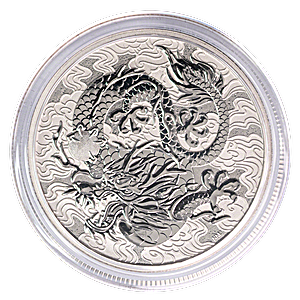 Roll over image to zoom in
Australian Platinum Chinese Myths and Legends 2022 - Dragon - Reserve Proof - 1 oz
Limited Time Offer
Regular Price
OUT OF STOCK
Great Premium:
Product Highlights
Country: Australia
Manufacturer: The Perth Mint
Diameter: 32.6 mm
Thickness: 2.9 mm
Purity: .9995
Weight: 1 troy oz (31.1 gram)
Tax Status: Gross Margin Scheme
Product Information:
1 oz Platinum Chinese Myths and Legends Dragon Reverse Proof coin produced by The Perth Mint.
The mythical dragon is the most auspicious of all the animals worshipped in Chinese culture. The Chinese dragon is venerated as friendly, dignified, and a potent emblem of plenty and good fortune, and is traditionally regarded as the personification of the Emperor.
It has the appearance of a serpentine creature with fish scales, eagle-like claws, and a horned head with demonic eyes. It has frequently been depicted with a pearl, a sought-after item connected with energy, opportunity, and immortality since ancient times.
The Dragon 2022 1oz Platinum Reverse Proof Coin is struck by The Perth Mint from 99.95% pure platinum and issued as legal tender under the Australian Currency Act 1965.
No more than 150 of these coins will be released worldwide.
Contact Us Regarding This Product
Customers who viewed this item also bought