2.5 Gram Valcambi Swiss Platinum Bullion Bar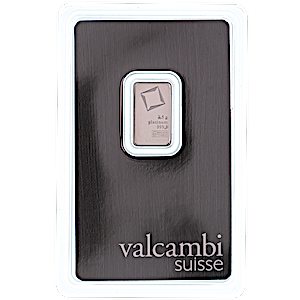 Roll over image to zoom in
2.5 Gram Valcambi Swiss Platinum Bullion Bar
Limited Time Offer
Regular Price
IN STOCK: 81 bars
Great Premium:
These 2.5 gram platinum bullion bars are a great way to build up your precious metals portfolio over time as your budget permits.
Product Highlights
Country: Switzerland
Manufacturer: Valcambi
Purity: 0.9995
Weight: 2.5 gram (0.08 troy oz)
Tax Status: No Tax/No GST
Product Information:
This 2.5 g minted platinum bar is produced by Valcambi, one of Switzerland's leading precious metals refineries.
Each 2.5 g platinum bar is minted to a very high lustre polish finish and comes presented in a secure presentation pack, which doubles as the bar's assay card.
The front surface of the bar displays Valcambi's refinery logo, a diamond comprising four scalene triangles, the bar's weight and platinum purity, and the bar's unique serial number.
The back surface of the 2.5 g platinum bar features the words Valcambi Suisse in vertical letters against a recurring image of the Valcambi logo.
The back of the presentation card also displays the bar's serial number, the bar's weight and purity, and the signature of Valcambi's chief assayeur.
Valcambi is one of the five referees of the prestigious London Platinum and Palladium Market (LPPM) Good Delivery Refiner list for platinum, a list of the world's leading platinum refineries.
Contact Us Regarding This Product
Customers who viewed this item also bought