British Gold Sovereign - 7.32 g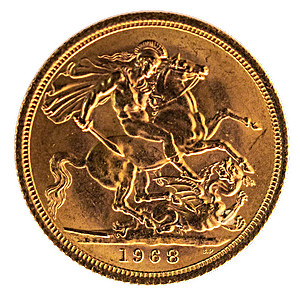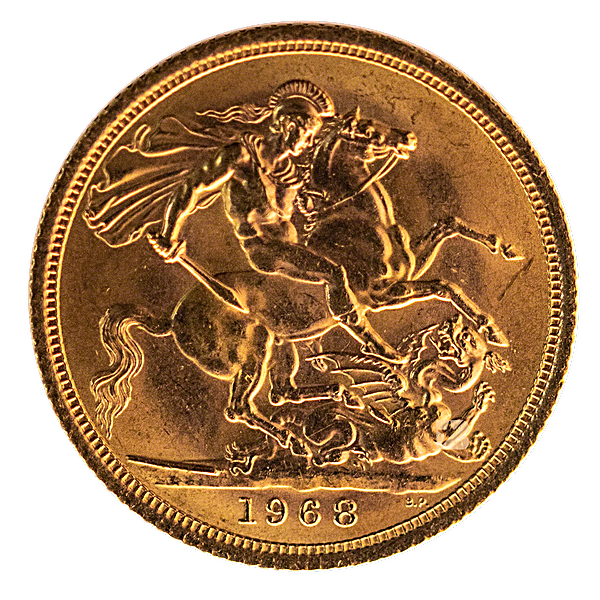 Roll over image to zoom in
British Gold Sovereign - 7.32 g
Limited Time Offer
Regular Price
OUT OF STOCK
Great Premium:
Product Highlights
Country: United Kingdom
Manufacturer: The Royal Mint
Diameter: 22 mm
Thickness: 1.6 mm
Purity: .916
Weight: 7.32 gram (0.235 troy oz)
Tax Status: Gross Margin Scheme
Product Information:
The Gold Sovereign, minted by Britain's Royal Mint, is one of the most famous and widely recognised gold coins in the world.
Containing nearly a quarter of a troy ounce of gold, the modern gold Sovereign was first minted over 200 years ago in 1817, and circulated widely as gold coinage during the 19th and 20th centuries in Britain and the British Empire.
Gold Sovereigns are minted from 22 carat gold and contain eleven twelfths gold and one twelfth copper, giving a gold purity of 0.9167. A Sovereign weighs 7.988 grams, which gives it a gold content of 7.323 grams or 0.2354 troy ounces.
As the Sovereign has a long production history, the obverse face of the coins feature a wide array of portraits of British monarchs over time.
The reverse face of nearly all Sovereign designs since 1817 feature a famous depiction of St George slaying a dragon. This imagery was designed by Italian engraver Benedetto Pistrucci.
Sovereigns are legal tender in the UK with a £1 face value, and as legal currency in the UK, are exempt from the UK's Capital Gains Tax (CGT).
As physical precious metals investments, Gold Sovereigns are affordable, great for gifting and collecting and are recognized and highly liquid the world over in all gold markets.
Contact Us Regarding This Product
Customers who viewed this item also bought