20 Gram PAMP Swiss Gold Bullion Bar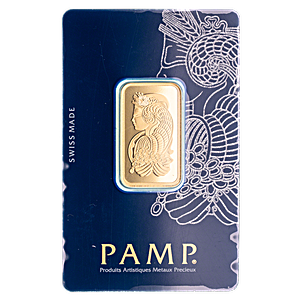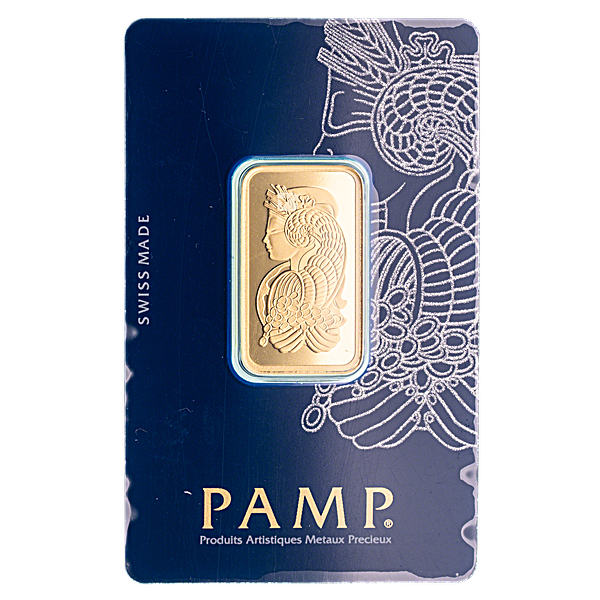 Roll over image to zoom in
20 Gram PAMP Swiss Gold Bullion Bar
Limited Time Offer
Regular Price
IN STOCK: 113 bars
Great Premium:
Swiss precious metals refiner PAMP's products are synonymous with excellence, including this 20 gram gold bullion bar.
Product Highlights
Country: Switzerland
Manufacturer: PAMP
Size: 31 mm x 18 mm x 1.97 mm
Purity: .9999
Weight: 20 gram (0.643 troy oz)
Tax Status: No Tax/No GST
Product Information:
PAMP minted gold bars are fabricated in 99.99% pure gold at PAMP's gold refinery in Ticino, Switzerland. When you buy PAMP gold bars, you are buying one of the world's most prestigious brands of investment precious metals.
The front of this 20 gram PAMP gold bar features a representation of Lady Fortuna, the Roman goddess of good fortune. PAMP also produces various other minted gold bar editions which feature a 'Rose' design, or a 'Liberty' design depicting the Statue of Liberty.
The reverse of the 20 gram PAMP minted gold bar displays PAMP's well-known logo of 4 circles, the bar's weight and purity "SUISSE 20g FINE GOLD 999.9", and the official Swiss stamp of authenticity "Essayeur Fondeur". The 20 gram PAMP gold bar is 22.1 mm long, 13.1 mm wide, and has a thickness of 0.46 mm.
Each 20 gram PAMP gold bar is presented in a tamper-proof security CertiPAMP packaging which also doubles as the gold bar's assay card. This card features 'SWISS MADE' written vertically long the right hand side of the card, and 'PAMP' written horizontally underneath. The back of each CertiPAMP card also records the gold bar's unique 7 digit Certificate Number.
PAMP's precious metals refinery, first opened in 1977, and is located in the village of Castel San Pietro in the southern part of the Canton of Ticino, very near to the Italian border.
Two of Switzerland's three other leading gold refineries are located within a few kilometres of PAMP in the southern area of Ticino. Argor-Heraeus is in Mendrisio, just 2 kms from PAMP, while Valcambi is in Balerna, just a few kilomteres from PAMP.. Together, PAMP, Valcambi and Argor-heraeus form what is known as Switzerland's "Golden Triangle" of gold refineries.
Contact Us Regarding This Product
Customers who viewed this item also bought