United Kingdom Gold Queen's Beast 2019 - The Yale - 1/4 oz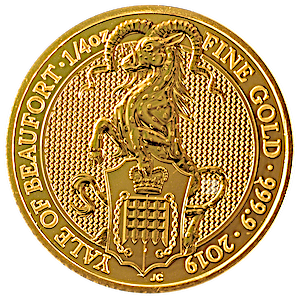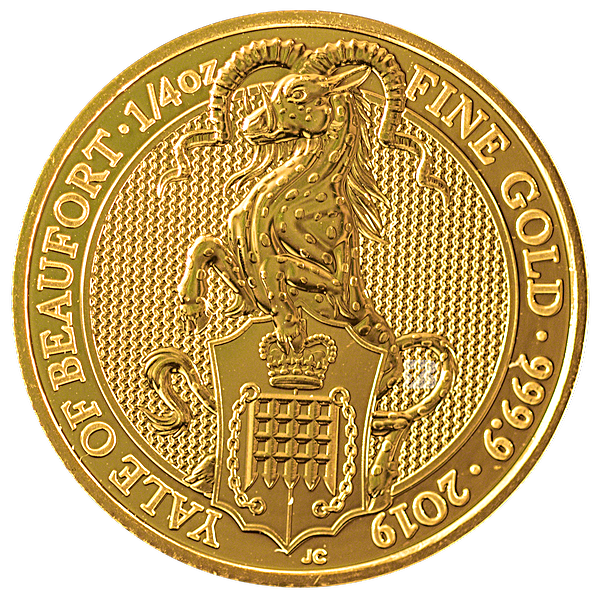 Roll over image to zoom in
United Kingdom Gold Queen's Beast 2019 - The Yale - 1/4 oz
Limited Time Offer
Regular Price
IN STOCK: 1 coin
Great Premium:
Product Highlights
Country: United Kingdom
Manufacturer: The Royal Mint
Diameter: 22 mm
Thickness: 1.6 mm
Purity: .9999
Weight: 0.25 troy oz (7.8 gram)
Tax Status: No Tax/No GST
Product Information:
This ¼ oz Queen's Beast 2019 gold bullion coin depicting the Yale of Beaufort is one in a series ten coin series celebrating the historic heraldic beasts associated with the British royal family.
Weighing one quarter of a troy ounce, or 7.8 grams, the coin is minted in 0.9999 fine gold.
As the seventh coin issued in the Queen's Beast gold coin range, the Yale of Beaufort is a mythical beast first depicted in the Roman encyclopedia Natural History by the Roman scholar Pliny the Elder and has been associated with the British Royal family since the fifteenth century.
The obverse of the ¼ oz gold Queen's Beast coin features a vivid depiction of the Yale with its distinctive horns atop a heraldic shield. This mythical Yale is the same mythical beast associated with the famous Yale University in the USA.
The reverse of the ¼ ounce Yale coin features a portrait of the British monarch Queen Elizabeth II, and the specification of the coin's weight, and gold purity.
The 1/4 oz gold Queen's Beast coin has a face value of 25 pounds and are non-circulating legal tender in the UK.
Contact Us Regarding This Product
Customers who viewed this item also bought