United Kingdom Gold Queen's Beast 2020 - The White Horse of Hanover - 1/4 oz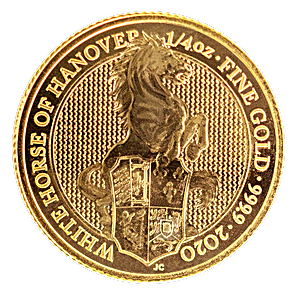 Roll over image to zoom in
United Kingdom Gold Queen's Beast 2020 - The White Horse of Hanover - 1/4 oz
Limited Time Offer
Regular Price
IN STOCK: 3 coins
Great Premium:
Product Highlights
Country: United Kingdom
Manufacturer: The Royal Mint
Diameter: 22 mm
Thickness: 1.6 mm
Purity: .9999
Weight: 0.25 troy oz (7.8 gram)
Tax Status: No Tax/No GST
Product Information:
This 1/4 oz Queen's Beast White Horse of Hanover gold bullion coin from the Royal Mint is the ninth in the series of gold bullion coins celebrating the heraldic beasts associated with the British royal family.
Comprising a series of ten coins, each gold coin of the Queen's Beast series is minted by the Royal Mint in 0.9999 pure gold.
The White Horse of Hanover was introduced into the Royal Arms in 1714 when the crown of Great Britain passed to the Elector George of Hanover. This grandson of Elizabeth Stuart, sister of Charles I, became George I, King of Britain, France and Ireland. The shield shows the leopards of England and the lion of Scotland in the first quarter, the fleur-de-lis of France in the second and the Irish harp in the third quarter. The fourth quarter shows the Arms of Hanover.
The reverse of the 1/4 oz gold coin features the royal heraldry of the White Horse of Hanover sitting uncrowned with mane, tail and shield against a background of textured chainmail.
On the obverse of the coin is a portrait of Britain's monarch, Queen Elizabeth II, also by the Royal Mint's engraver Jody Clark.
The 1/4 oz gold Queen's White Horse of Hanover gold coin has a face value of £100 and is non-circulating legal tender in the UK.
The Royal Mint in Llantrisant, South Wales, is one of the oldest mints in the world and is fully owned by Her Majesty's Treasury.
Contact Us Regarding This Product
Customers who viewed this item also bought