2021 1/4 oz Australian Gold Kangaroo Nugget Bullion Coin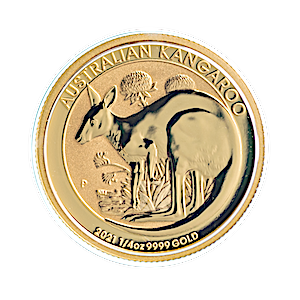 Roll over image to zoom in
2021 1/4 oz Australian Gold Kangaroo Nugget Bullion Coin
Limited Time Offer
Regular Price
IN STOCK: 26 coins
Great Premium:
This is the quarter-ounce version of Australia's most recognisable gold bullion coin, the Gold Kangaroo Nugget. Coins of this size are practical when the price of gold is high.
Product Highlights
Country: Australia
Manufacturer: Perth Mint
Diameter: 20.10 mm
Thickness: 1.80 mm
Purity: .9999
Weight: 0.25 troy oz (7.8 gram)
Tax Status: No Tax/No GST
Product Information:
This 2021 1/4 oz Kangaroo gold bullion coin from Australia's Perth Mint has a gold fineness of 0.9999 and weighs exactly 0.25 troy ounces.
Vividly capturing scenes of the Australian outback via portrayals of one of Australia's most famous symbols, the Australian Kangaroo, this gold bullion coin series has been produced by the Perth Mint since 1986.
Each year, the Perth Mint features new kangaroo imagery on its Gold Kangaroo bullion coins, which explains its popularity with both gold investors and gold coin collectors alike.
The obverse of the 2021 1/4 oz Gold Kangaroo bullion coin Portrays a crouching kangaroo with Waratah and Kangaroo Paw native plants in the background. Inscribed above are the words 'AUSTRALIAN KANGAROO', and below, the coin's year, weight and gold purity '2021 1/4oz 9999 GOLD'. A 'P' mint mark to the left signifies that the coins are minted by the Perth Mint.
The reverse of the 1/4 oz Gold Kangaroo an effigy of Australia's head of state Queen Elizabeth II. The reserve face also states the coin's official face value of '25 dollars'. Gold Kangaroo bullion coins are government-authorised non-circulating legal tender in Australia and are issued under the Australian Currency Act of 1965.
In addition to gold, The Australian Kangaroo bullion coin series is also produced by the Perth Mint in 99.99% pure silver and 99.95% pure platinum.
Contact Us Regarding This Product
Customers who viewed this item also bought