2018 1/4 oz Australian Gold Kangaroo Nugget Bullion Coin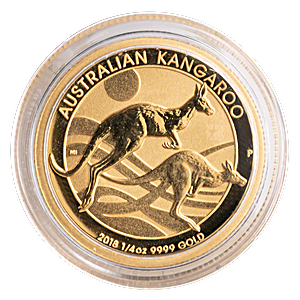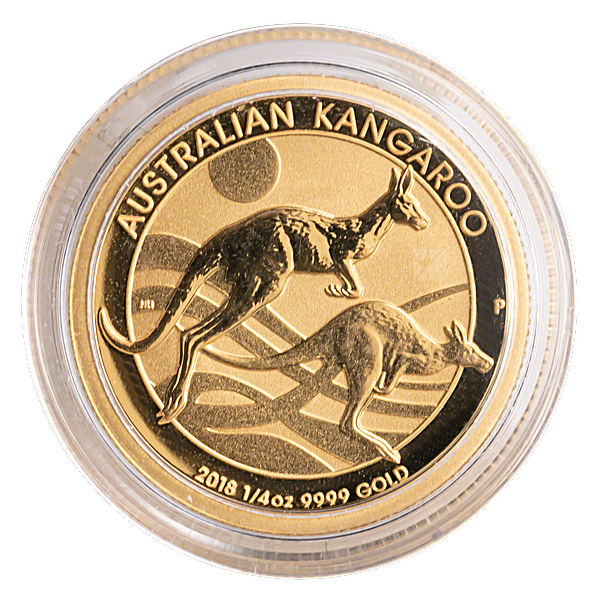 Roll over image to zoom in
2018 1/4 oz Australian Gold Kangaroo Nugget Bullion Coin
Limited Time Offer
Regular Price
IN STOCK: 2 coins
Great Premium:
The 1/4 oz Australian Gold Kangaroo Nugget is an excellent mid-sized gold bullion coin that you won't regret having in your precious metals portfolio.
Product Highlights
Country: Australia
Manufacturer: Perth Mint
Diameter: 20.10 mm
Thickness: 1.80 mm
Purity: .9999
Weight: 0.25 troy oz (7.8 gram)
Tax Status: No Tax/No GST
Product Information:
The 0.25 oz Gold Kangaroo coin is a gold bullion coin produced by the Perth Mint of Western Australia. Each of these gold kangaroo coins weighs 0.25 troy ounces and has a gold purity or fineness of 0.9999, i.e. 99.99% pure gold.
The Perth Mint was formerly a branch of Britain's Royal Mint, but is now fully owned by the Government of Western Australia.
The Australian Kangaroo gold bullion coin series was first issued in 1987 and is currently produced in 1 oz, 0.5 oz, 0.25 oz, and 0.1 oz sizes, as well as a very large 1 kg gold coin. Each year, the imagery on the Kangaroo Gold Bullion series of coins changes.
For 2018, the front face of the 0.25 oz gold Kangaroo features a stylised design of two Kangaroos bounding across an Australian rural landscape. The imagery is inscribed at the top by the words 'AUSTRALIAN KANGAROO', and a 'P' mint mark signifying Perth. The obverse also displays the coin's year '2018', weight '0.25 oz', and the coin's purity '9999 GOLD' .
The reverse face of the Gold Kangaroo coin features a head portrait of the official head of state of Australia, Queen Elizabeth II, and the coin's official face value of '25 dollars'. Gold Kangaroo bullion coins are non-circulating legal tender in Australia.
Contact Us Regarding This Product
Customers who viewed this item also bought