Canadian Gold Maplegram25 2023 - 25 x 1 g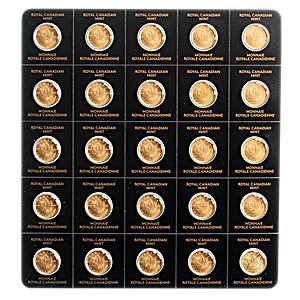 Roll over image to zoom in
Canadian Gold Maplegram25 2023 - 25 x 1 g
Limited Time Offer
Regular Price
IN STOCK: 41 coins
Great Premium:
Product Highlights
Country: Canada
Manufacturer: Royal Canadian Mint
Diameter: 8 mm
Purity: .9999
Weight: 25 gram (0.804 troy oz)
Tax Status: No Tax/No GST
Product Information:
Launched in September 2014 by the highly regarded Royal Canadian Mint, the Gold Maplegram25 is the world's first investment gold coin multipack. The Maplegram25 consists of a set of 25 x 1 gram 9999 fine gold Maple Leaf coins, each sealed within its own secure blister pack, and attached together in a stylish 5 x 5 square arrangement. Each sealed coin can be individually detached, while leaving the remaining coins interconnected in the main card.
The reverse of each 1 gram gold Maple Leaf is struck with a stylish representation of Canada's national symbol, the Maple Leaf, designed by RCM master engraver Walter Ott. The fine gold content of the coin '9999' is inscribed horizontally each side of the leaf motif, with the word 'CANADA' inscribed in an arc above, and "FINE GOLD" "1 g OR PUR" in an arc below. The obverse of the gold coin features a portrait of Queen Elizabeth II, Canada's official head of state, engraved by Susan Taylor. The obverse of the gold coin is also inscribed with the year of issue and the coin's face value '50 cents'.
The 5 x 5 set is presented within a highly-figurative protective sleeve which also serves as the pack's assay certificate and is signed on the back by Jonathan Forrest, the Chief Assayer of the Royal Canadian Mint, thereby guaranteeing the authenticity of the gold coins. The front of the assay card features a series of Maple Leaf silhouettes in golden browns.
Each gold coin has its own unique serial number printed on the back of its tamper proof security blister pack, therefore each gold coin can still be uniquely identified when detached. This divisibility also facilitates trading, gifting and selling of the individual coins.
At just over 0.80 fine troy ounces, the full Maplegram25 set in its protective sleeve is slim enough to store discreetly, yet is light enough to be portable. Along with the RCM's smaller Maplegram8 set, both Maplegram products are highly prized by discerning collectors and gold investors alike.
Contact Us Regarding This Product
Customers who viewed this item also bought