Australian Gold Kangaroo Nugget 2022 - 1/10 oz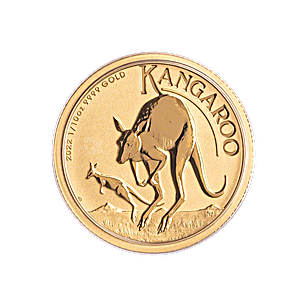 Roll over image to zoom in
Australian Gold Kangaroo Nugget 2022 - 1/10 oz
Limited Time Offer
Regular Price
IN STOCK: 44 coins
Great Premium:
These wonderful 1/10 oz bullion coins are a fine choice for first-time gold investors and experienced gold investors alike.
Product Highlights
Country: Australia
Manufacturer: The Perth Mint
Diameter: 16.10 mm
Thickness: 1.30 mm
Purity: .9999
Weight: 0.1 troy oz (3.1 gram)
Tax Status: No Tax/No GST
Product Information:
This 0.1 oz Kangaroo gold bullion coin is minted for 2022 by Australia's famous Perth Mint. Each coin weighs 1 troy ounce and has a gold fineness of 0.9999.
Since its inception, the Perth Mint's Australian Kangaroo bullion coin series has become one of the world's most anticipated investment bullion coin series with designs that change each year.
The front face of the 2022 0.1 oz Gold Kangaroo coin portrays a kangaroo and its joey bounding across a flat, grassy plain with hillocks on the horizon. Inscribed at the top are the words 'AUSTRALIAN KANGAROO', and below, the coin's year, weight and gold purity '2022 0.1 oz 9999 GOLD'.
The reverse face of the Gold Kangaroo bullion coin contains a portrait of Queen Elizabeth II, Australia's official head of state, and the coin's face value of '15 dollars'.
In addition to the 1 oz gold bullion coin, the Australian gold Kangaroo is also minted in weights of 1 oz, 1/2 oz, 1/4 oz, and the very large 1 kilo Gold Kangaroo.
While the Australian Kangaroo gold bullion coin series was first issued in 1990, it is officially called the 'Australian Nugget Kangaroo Gold Bullion Series', because from 1987 to 1989 a similar coin with imagery of famous Australian gold nuggets was issued by the Perth Mint.
Contact Us Regarding This Product
Customers who viewed this item also bought