Gold Bullion Necklace - 20 g - Pre-Owned (Perfect Condition)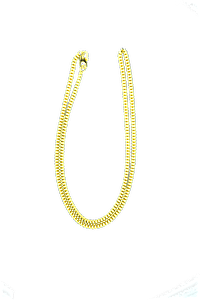 Gold Bullion Necklace - 20 g - Pre-Owned (Perfect Condition)
Limited Time Offer
Regular Price
OUT OF STOCK
Great Premium:
Product Highlights
Country: Singapore
Purity: .999
Weight: 20 gram (0.643 troy oz)
Tax Status: Gross Margin Scheme
Product Information:
Pre-owned but in perfect condition.
Gold bullion jewellery is a mix between bullion and jewellery.
The necklaces feature the classic fish bone design and are stamped 999 depicting the minimum gold purity. The necklaces are also hallmarked with the official Singapore assay office mark, the lion.
The necklaces can be worn like normal jewellery necklaces and are very beautiful themselves. The difference from a normal necklace is that a gold bullion jewellery necklace has a very attractive price, has a standardized weight and that BullionStar offers to buy back the necklace at a price above the spot price of gold!
Gold bullion jewellery is ideal for transporting wealth across borders discreetly and may be a good way of diversifying from normal gold bullion in a gold confiscation scenario.
Contact Us Regarding This Product
Customers who viewed this item also bought